Cuba Denounces "US Attack on International Law"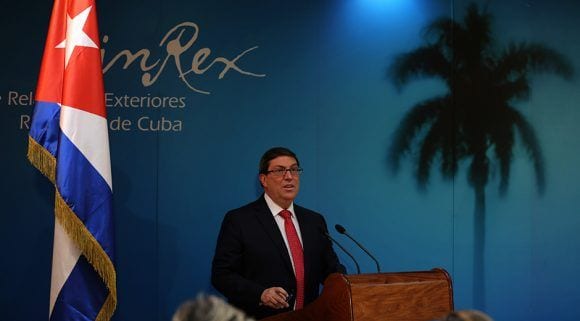 HAVANA TIMES – Cuba's foreign minister, Bruno Rodríguez, has "vigorously" rejected the US decision to reactivate the Helms-Burton Law completely, underlining that it is an "attack on international law" that will "fail", reported Europa Press.
I strongly reject Secretary of State (Mike) Pompeo's announcement of activation of Title III of the Helms-Burton Act, "said the head of Cuban diplomacy through the social network Twitter.
Pompeo has announced on Wednesday that from May 2 the United States will admit in its courts the lawsuits filed against companies around the world that do business with the goods confiscated by the Cuban authorities after the 1959 Revolution.
The Helms-Burton Act, passed in 1996, gave this right to US citizens, although up until now all the US governments had voided this clause "in the hope that the Cuban regime would make a transition to democracy."

For Rodriguez it is "an attack on International Law and the sovereignty of Cuba and third states." "The aggressive escalation of the United States against Cuba will fail. As in Girón, we will win, "said the Foreign Minister.

The reactivation of the legal clause will affect mainly European and Canadian companies, since they are the ones with the most interests in Cuba.

Brussels and Ottawa have clarified this Wednesday in a joint statement that they will not recognize the judgments that may be issued in the United States against European or Canadian interests in Cuba and have warned that their response will be framed in the context of the World Trade Organization (WTO). ).

A senior official of the State Department explained in a telephone contact with media outlets from Brussels that the decision to give full effect to the Helms-Burton Act is due to the actions of the Cuban Government inside and outside the Caribbean island, underlining this Regarding his support for the Executive of Nicolás Maduro in Venezuela.