Cuba – EU Sign Agreement to Normalize Relations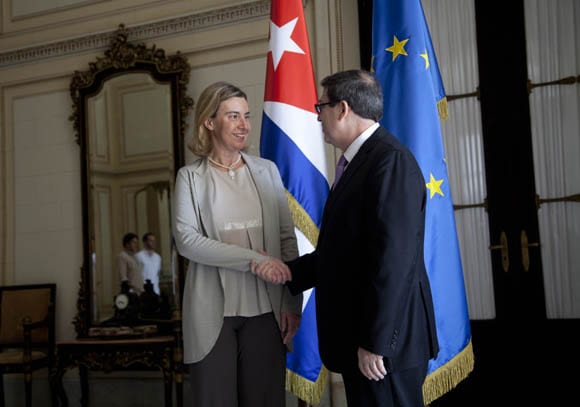 HAVANA TIMES — The European Union (EU) and Cuba signed an agreement today in Havana on political dialogue to normalize bilateral relations, after two years of negotiations.
The EU High Representative for Foreign Policy, Federica Mogherini, signed the text along with Cuban Foreign Minister Bruno Rodriguez, reported dpa news.
The text must be ratified in all countries involved.
Both parties had maintained tense relations for years because of the situation of human rights on the socialist island.
The agreement comes within the framework of the political thaw between Cuba and the United States, and a few days before a landmark visit to Cuba by US President Barack Obama.
"The parties attest to the conclusion of negotiations of this important document," said Brussels and Havana in a joint statement. "In this way, relations between Cuba and the EU are projected towards consolidation in the medium and long term," added the text.
The agreement includes as "essential components" political dialogue, cooperation and trade.
During the two years of negotiations human rights was one of the thorniest issues. Since 1996, the "common position" of the EU towards Cuba conditioned relations to improvements in the situation of human rights on the island.
"The issue of human rights was addressed in a way acceptable to both sides", said Cuban Deputy Foreign Minister Abelardo Moreno at the end of the seventh round of bilateral negotiations held last week also in Havana.
Cuba is the only Latin American country with which the EU still did not have a comprehensive bilateral treaty. The agreement is not clear on whether the new treaty of "political dialogue and cooperation" will actually replace the "common position" of the EU.
Most European countries publicly advocated for years for a policy change, including Spain, author of the "common position" in the 90s under the chairmanship of José María Aznar.
For years, several EU countries reached specific bilateral agreements with the Cuban government.
The rapprochement between Cuba and the EU takes place just over a week before the historic visit by Obama to the island.
The US president will be in Cuba on March 21-22 in a trip framed in the historic thaw initiated by Washington and Havana in December 2014.
The rapprochement between the neighboring countries has also boosted relations between Cuba, which is undergoing a process of economic and diplomatic opening, and the rest of the Western countries.