Cuba Experts See Rina as Major Hurricane
By Circles Robinson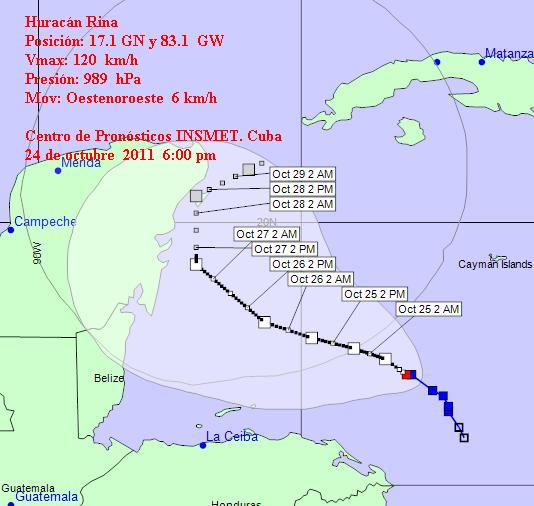 HAVANA TIMES, Oct. 25 — The Mexican Yucatan Peninsula including the popular tourist resort Cancun are on alert for Hurricane Rina and at least western Cuba also appears in the sights of the storm.
Rina is already packing 105 mph (170 kph) winds and according to the Cuban Weather Service (INSMET) it will continue gaining in intensity during the next 24-48 hours.
The center of the powerful storm was located at 6:00 a.m. Tuesday at 205 miles (330 kms.) southwest of Grand Cayman Island and 313 miles (505 kms.) east/southeast from Chetumal, Mexico.
INSMET further noted that Hurricane Rina continues to move very slowly on a west-northwest track at under 4 mph. (6 kph).
Both the Cuban weather forecasters and the National Hurricane Center (NHC) envision Rina making a landing as a major hurricane (over 110 mph) sometime Thursday night or Friday. After that the storm is expected to make a right turn east-northeast, still with hurricane force.