Cuba Eyes Irma as it Approaches the Caribbean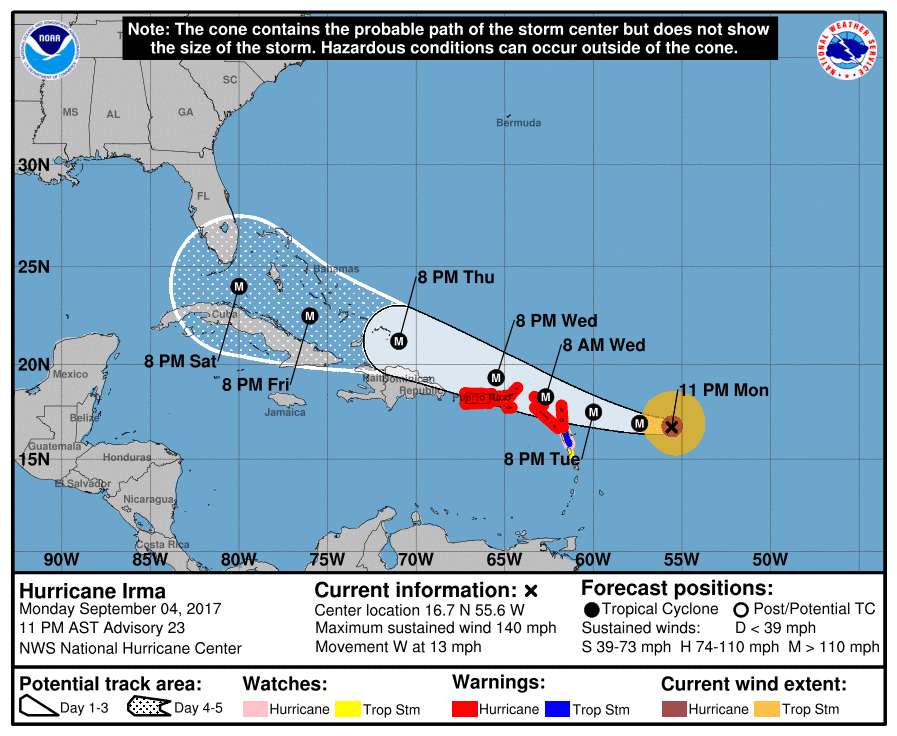 HAVANA TIMES – Hurricane Irma, with incredibly strong 140 mph (220 km/h) winds, continues to move towards the northern Leeward Islands of the Caribbean. It also poses a threat to Puerto Rico, the Dominican Republic, Haiti, Cuba and the Bahamas from Wednesday on through the weekend.
Florida is also right on the current path of the storm and the governor has declared a state of emergency to facilitate civil defense efforts there.
Several people planning to travel to and from Cuba in the coming days write on Trip Advisor that they are waiting for notice from the airlines to change their flights.
At 11 PM Cuba time (EDT) on Monday, the center of Hurricane Irma was located by the National Hurricane Center (NHC) at 410 miles (660 kms) east of the Leeward Islands.  It is currently moving west at 13 mph (20  km/h) and has a minimum central pressure of 943 millibars.
The storm is a category 4 on the 1 to 5 Saffir-Simpson scale, meaning it can cause major damage and life threatening situations.  Hurricane Harvey, which just recently hit the Gulf Coast of the United States was also a category 4 hurricane.
A hurricane warning is now in effect for Antigua, Barbuda, Anguilla, Montserrat, St. Kitts, and Nevism Saba, St. Eustatius, and Sint Maarten, Saint Martin and Saint Barthelemy, the British Virgin Islands, the U.S. Virgin Islands, Puerto Rico, Vieques, and Culebra.
A hurricane watch has been called for the island of Guadeloupe and a tropical storm watch for Dominica.
The National Hurricane Center notes that Interests in the Dominican Republic, Haiti, the Turks and Caicos Islands, Cuba, and the southeastern and central Bahamas should monitor the progress of Irma, as it could pose a threat there by Thursday and into the weekend.
With the long alligator shaped Cuba often vulnerable to hurricanes, the way the eye of the storm approaches can make a big difference and is being closely watched.  The government has a world famous civil defense network that springs into action and saves lives, but with an already poor nationwide housing infrastructure, Cubans are always worried about the aftermath of the passing of any powerful storm. People who lose their homes can spend decades in shelters or be forced to move in with other relatives.
The NHC warns that storm surges and violent waves along the northern coasts of the affected countries could bring water levels up by two to nine feet invading the low lying coastal communities.