Cuba Faces USA with Pitching Handicap
HAVANA TIMES — On the eve of the summer's second important international event Team Cuba already faces what is becoming an all-too familiar scenario – a mound corps reduced to bare minimum before the first pitch is tossed and the first bat swung. Villa Clara southpaw Misael Siverio left the team hotel in West Des Moines on Tuesday evening to pursue his dream of joining the North American professionals and eventually earning his fortunes with Major League Baseball.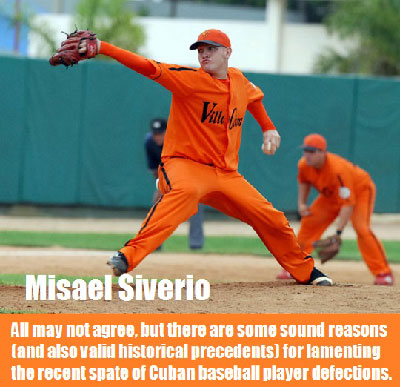 The defection came shortly after the team's arrival via tour bus from their original USA arrival point in Chicago. Fresh off his best Cuban League season (9-7 and the circuit's third-best ERA), the 24-year-old veteran of one previous international event (2011 Rotterdam World Port Tournament) was the only southpaw on Cuba's nine-man pitching staff; his departure leaves manager Victor Mesa with but eight available arms entering the five game set versus Team USA's collegians and also without a single portside thrower in his now rather thin mound arsenal.
The situation echoes the similar experience of one month earlier when an early departure by veteran Odrisamer Despaigne in transit to Rotterdam left manager Yovani Aragón with only seven hurlers for the seven-game World Port Tournament affair.
In that earlier case the handicap did not prove to be especially injurious since the rather thin Cuban staff nonetheless dominated the Holland event with four shutouts in seven outings and with a microscopic tournament-best ERA.
The pitching triumphs in Rotterdam were mainly the result of heroic efforts on the parts of starters Ismel Jiménez and Wilber Pérez plus closer Racial Iglesias, two of whom (Jiménez and Iglesias) are once again on hand here in Des Moines.
But it would seem that the Cuban brain trust will sooner rather than later have to consider the need for carrying a team roster composed of a few less spare infielders and outfielders and a few extra pitching arms.
Misael Siverio's headline-grabbing departure here in Des Moines has momentarily taken the focus away from what promises to be an exciting, competitive and even historical five-game series. The defection was a feature sports story trumpeted on prime hour Des Moines sportscasts last night and will likely generate more interest and coverage from local press than any on-the-field action once the ball games finally begin tonight in Principal Park.
This is clearly an unfortunate distraction since the series promises once again to be highly competitive and certainly has its major historic overtones. Although Cuban squads have appeared on US soil several times in the past decade and a half (viz., 1999 for the exhibition match with the Baltimore Orioles and 2006 and 2009 for World Baseball Classic rounds staged in San Diego), this represents the first stateside renewal of the long-dormant Cuba-USA Baseball series in sixteen full years.
And just how good these contests can be was clearly signaled by last year's five games in Havana and two additional matchups at the Haarlem Baseball Weeks in Holland. In the seven meetings last summer, the two squads entered extra innings of the Haarlem semifinal game (won eventually by Cuba) exactly deadlocked not only at three games apiece but also in the precise number of runs scored by each team.
Tonight's opener features a pair of staff aces, six-foot-three-inch southpaw Carlos Rodon (an All-American sophomore at North Carolina State University) and 24-year-old righty Freddy Asiel Alvarez, widely considered Team Cuba's top international prospect. Alvarez is fresh off a remarkable Cuban League post-season performance in which he hurled a record 40.2 consecutive scoreless innings during five starts in the playoff semifinal and final series. Alvarez won the series-clinching fourth game in Havana last summer with a scoreless 7-inning starting performance; Rodon started the final game (won by the Americans) for Team USA but received no decision after his six innings of labor in which he yielded three earned runs.
The short-run implications of the most recent defection are obvious – Cuba must again tax its short-supply of available hurlers if it is going to compete on an equal footing in this year's series. The long-term consequences are more complicated, more fraught with controversy, and less easy to adequately discuss without becoming fully mired in a sea of outdated and usually quite irrelevant cold-war political ideologies.
The camp on these matters is always divided between those retro-thinkers (usually non-baseball fans per se) who see such player departures as symbolic defeats for the hated Cuban communist political system, those who focus more legitimately on baseball but long to see the best Cuban stars testing themselves against the top level of competition with big league clubs, and those (like the current writer) who support ballplayers' rights to determine their own futures but also lament the drain of talent which may eventually sound the death-knell for Cuba's proud baseball tradition.
I usually avoid becoming enmeshed in the controversy over Cuban baseball defections, and when I have commented (often only piecemeal) many of my readers have wanted to distort, misinterpret (or largely misapprehend) my middle-of-the-road position. But since it is indeed an important issue let me try once again (perhaps only vainly) to set the record straight on my personal views.
I do not begrudge players leaving the island. But I do not support or advocate it either. I wish Odrisamer Despaigne and now Misael Siverio the best of luck in fulfilling their professional baseball dreams. If I write of my doubts about their big league potential that is a result of my experience in watching them play and in assessing their skills; it is not an issue of bitterness at their departure. At the same time I will continue to argue that there are some very sound reasons (and also valid historical precedents) for lamenting the recent spate of Cuban baseball player defections.
Cuban baseball is a beautiful spectacle and offers an important corner of a shrinking baseball universe (one not governed and manipulated by the corporate owners of North American organized professional baseball), and I consider myself privileged to have seen so much of it over the past two decades.
Admittedly the Cuban League is far from a perfect institution and it does have its large warts. It is often disorganized and chaotic in its administration and it sacrifices ballplayer freedoms for institutional goals.
Cuba's baseball is a throwback to the more pastoral and less commercialized spectacle of pre-1960s major league baseball (a world, by the way, where the ballplayers also enjoyed few economic freedoms and were largely held in slave-labor conditions by fifties-era MLB club owners).
No one should deny that major league baseball today also has its heavy baggage and many warts and scars (drug scandals, poor ballplayer citizenship, outrageous ticket prices, and fewer Afro-American ballplayers than it had a half-century back).
What surprises me at times is the degree to which Cuban fans (both those at home and those relocated stateside) misunderstand the realities of the situation. So many hold to a false dream of big league rosters packed with Cuban exiles; they see a scenario in which those former Cuban Leaguers will soon be carrying the banner of their ex-homeland into top international competitions like the World Baseball Classic. That notion of course is an idle dream that will never materialize for the current generation of fans.
If Cuba does not allow its players open license to depart to the free agent market of North American professional baseball, it is that very fact (despite the many potential negative consequences) that has resulted in Cuba still having a top-quality national baseball.
There is no national baseball as such remaining in neighboring Caribbean countries such as the Dominican Republic, Venezuela, or Puerto Rico. (And if there is some semblance of the professional sport with an AAA-level league in Mexico, it must be remembered that baseball is only a secondary sport in the Aztec nation of soccer lovers.) And the fact that Cuba maintains a high-level independent league is precisely why it has developed so many top prospects and draws such continued interest from MLB scouts at events like the one ongoing here this week in Des Moines, Omaha and Durham.
What might happen if enough of the top Cuban players leave the island in a piecemeal fashion? There seems to be one most obvious and disheartening potential long-range scenario.
There is indeed a perfect historic precedent for the current situation in Cuba and that would be the equally complicated scenario played out a full half-century ago with the much celebrated integration of major league baseball and the consequent attached demise of the institution that was the North American Negro leagues.
A great social injustice (perhaps parallel to that of Cuban Leaguers not earning MLB riches) was buried when Jackie Robinson and a handful of African-American and Afro-Latino stars joined major league rosters for the first time in the late-1940s and early-1950s.
But at the same time hundreds of talented ballplayers not owning big-league credentials no longer had a league to play in; thousands (perhaps millions) for black citizens lost overnight the entertain and cultural centerpieces of their local black communities with the death of the Negro American League and the Negro National League.
If the doors are soon opened for current Cuban players to flee the island and flood onto the North American scene a small handful of the most talented will assuredly improve their economic lives beyond wildest imagination; but hundreds of others lacking big league skills will no longer have a league of their own.
And Cuban fans living within the island nation will only see quality baseball as projected via television images and not as played in a local ballpark only a few blocks away. Simply put, there will be no talented national team left to root for.
It should be noted that a great majority of Miami-based Cuban ball fans who comment on my Facebook page and who also welcome each new defection as something to celebrate ironically do not in fact actually follow with enthusiasm the careers of native or second-generation "Cuban" ballplayers; what seems to stoke their interest is only Cuban Leaguers (those trained and developed on the island) who eventually make it huge in the majors.
A case in point in recent weeks has been all the enthusiastic posts about the exploits of Yasiel Puig, the Home Run Derby triumph of Yoenis Céspedes, or the All-Star Game appearance of Aroldis Chapman.
Meanwhile we hear hardly a word about Cuban-born Marlins pitcher José Fernandez, also a National League all-star. And why? Because Fernández apparently gets lost in the shuffle since he never played for a Cuban League team.
The Cuban-American community appears interested in established Cuban Leaguers, but isn't quite so enamored of those of Cuban blood (including second-generation Cuban-Americans born in Miami) who boast Cuban heritage but are nonetheless in every other respect North American ballplayers.
I wonder if the same enthusiasm will exist a decade down the road if all "Cuban" players are coming out of MLB academies or US colleges and high schools and not from the rosters of Granma, Villa Clara, Santiago and Industriales.
I am no better equipped than any others to forecast the future when it comes to Cuban baseball. But several things do seem rather clear at this point. There will be no Cuban national team in the near future (or likely in the distant future) that headlines exiled islanders big leaguers carrying the Cuban flag into future editions of the celebrated MLB World Baseball Classic.
One must remember that MLB does not name the WBC rosters but that task is handled by local national baseball federations that are loaned players from MLB rosters. Neither the Cuban governmental system not the Cuban Baseball Federation is likely going away soon; while the Cuban baseball management is now looking at releasing players to some professional leagues (like those in Mexico, Taiwan and Japan) it is not likely to deal directly with MLB in constructing WBC rosters every four years.
Players like Chapman, Céspedes, Puig or Siverio will also be long gone from the scene before any such détente occurs. Instead, continued defections of major island stars will temporarily pad big league clubs but also eventually strangle the sport at home.
Down the road Cuba may not be able to field teams strong enough to qualify for future WBC events and will be eliminated in play-in-rounds (like Panama, Nicaragua and Israel during Fall 2012). With no MLB academies on the island in the foreseeable future and no island league left to develop major talent, the Cuban big league presence will eventual begin to dry up rather than continue expand.
The Cuban league mystique will disappear for both fans and for big league scouts and player agents. Cuba will have about as much thriving winter league domestic baseball to thrill its native fans as the Dominican or Venezuela or Puerto Rico currently possess. That is to say, virtually none at all.
It does indeed appear to be a bleak future for baseball in Cuba as I currently see it (and perhaps for international baseball as a whole), once the only rational for the diamond sport in other lands becomes the need to fuel a dwindling supply of homegrown native USA-born big leaguers.
But that future is still not yet quite at hand and we still have this week's fascinating and entertaining Cuba-USA series to enjoy.
Unfortunately there will be many in the Cuban-American community who will now pay little further attention since they have already enjoyed their fondest wished-for triumph with the announcement of still one more player loss for the Cuban arsenal.
And it is also likely that no matter how good the games are here in the Midwest and back on the east coast, the North American sporting press will pay nowhere near as much attention as they did last night here in Des Moines when they were handed another defection story to carry as their page-one headline news.
—–
(*) Read Peter C. Bjarkman and Ray Otero's coverage of the US-Cuba series at baseballdecuba.com.