Cuba Falls 6-2 to Venezuela, now 1-3
In the Caribbean Series being played in San Juan, Puerto Rico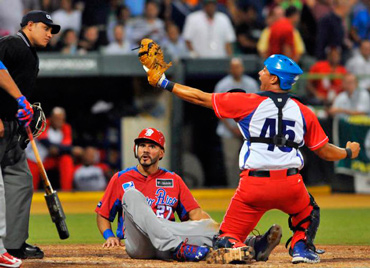 HAVANA TIMES — After a brief resurrection on Wednesday with an extra-inning win over Puerto Rico, Cuba returned to its losing ways on Thursday afternoon, defeated 6-2 by the Venezuelan team at the Caribbean Series.
Cuba still has a chance to qualify for the semifinal round of the Caribbean Series but it depends totally on the results of the other teams' final games.
At this point in the highly competitive series, Venezuela is in first place with a 3-0 record; Mexico 2-0; Dominican Republic 1-1; Cuba 1-3 and the hosts Puerto Rico 0-3.
Cuba took the lead in the bottom of the second with a solo homer by first-baseman Alexander Malleta, however it was short lasting. In the top of the third the Venezuelans battered Cuban starter
Yovanni Vera, the losing pitcher, for four runs on five hits including a triple by Gorkys Hernandez to take a 4-1 lead that would prove more than enough.
Venezuelan starter Cesar Valdez pitched seven strong innings allowing two runs, on seven hits while striking out eight batters. The other Cuban run came on a solo homer by Luis Valdez in the seventh.
Balbino Fuenmayor, the Venezuelan DH, went 3-for-4 including a solo homer in the sixth. He had two RBIs on the afternoon.