Cuba Food News: Stressed Chickens & Fish Trafficking
Daniel Benitez  (Cafe Fuerte)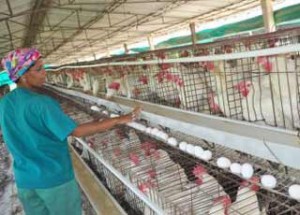 HAVANA TIMES — Declining egg production in Havana's neighboring province of Artemisa, where a deficit of 2.8 million units was officially reported in January and February, set off an alarm this last week.
Luis Carlos Perez, director of Artemisa's poultry industry, shared these worrying production figures with the provincial press, insisting the situation has not yet had an impact on the supply and distribution to Havana.
One of the main reasons which the official claims responsible for the drop in egg production in the region is "stress caused by climactic irregularities, such as strong winds, low temperatures and overcast days", as well as other difficulties affecting the quality of the feed.
The days in which Fidel Castro boasted that Cuban chickens at the National Poultry Industry Complex broke all production records (despite the hurricanes and strong winds that lashed the island) seem distant now. The times have changed.
Transportation Issues
Perez also made mention of other difficulties, such as the "transportation of chickens", particularly egg-laying hens, as well as health problems reported at several units, adding that certain climactic improvements and the adequate handling of the birds at production facilities have already led to increased production. He estimated that production goals will be surpassed at the close of March.
At any rate, the stress affecting Cuban chickens seems to be a nationwide problem, as egg production dropped to 2.063.7 billion units last year, 3.2 million below the figure reported in 2013. Eggs are a key source of protein for Cuban families.
Artemisa has set a production goal of 247.2 million eggs for 2015, 3.4 million more than were produced last year. The higher production goal stems from the assembly of new infrastructure that can house an additional 11 thousand laying hens, starting May this year, Perez reported.
Eggs are also a key product for food production and services run by the self-employed, who many a time must resort to the black market for supplies, as is the case with other food products that are scarce at State markets.
Confiscations in Cienfuegos
The illegal sale of fish and seafood products to private businesses was dealt a harsh blow in Cienfuegos in recent months following the confiscation of 11 tons of fish and seafood, five private cars and one truck belonging to a State company.
The goods were being sold mainly to private restaurants and bed-and-breakfasts in the region. According to Radio Rebelde, in some cases, the products were brought from neighboring provinces such as Villa Clara and Sancti Spiritus.
During operations carried out over the past 13 months, Cuban authorities confiscated "1.8 tons of lobster, arriving mainly from Sagua la Grande and Trinidad," Orlando Diaz, representative of the National Fishing Inspection Bureau, told the radio.
A truck belonging to an unnamed State company located in the municipality of Mayjigua was used for these illegal sales. The truck was carrying a ton and a half of fish.
A total of 300,000 Cuban pesos (some US $12,000) in fines were applied and 120 pieces of fishing equipment, two refrigeration systems and dozens of kilometers of nets were confiscated.
The fines applied on illegal suppliers of lobster and shrimp oscillate between 7,500 and 10,000 Cuban pesos.
One of the smuggled species was the Jocu red snapper, which the Cuban Ministry of Public Health reports as toxic when consumed in excess of three pounds.
The reports have not specified how many people were involved in these activities and whether any are facing criminal charges.