Cuba Forecasters: TS Maria 3-Days from Puerto Rico
By Circles Robinson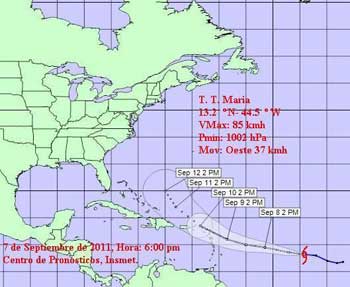 HAVANA TIMES, Sept 7 — Tropical Storm Maria is currently moving west two-three days from the far northeastern Caribbean islands, reported Cuba's Weather Institute (INSMET) on Wednesday.
Maria, packing winds of 50 mph (85 kph), is moving swiftly at 23 mph (37 kph) on a westward course.  At 6:00 p.m. EDT, the center of the storm was located at 1006 miles (1620 kilometers) east of Barbados.
INSMET said that during the next 24-48 hours Maria is expected to maintain its course, slowing some in speed, with little change in organization and intensity.
The current projection cone by the Cuban forecasters has Maria moving into the NE Caribbean by sometime Friday and close to the Virgin Islands and the north coast of Puerto Rico by Saturday evening.
At this time, both INSMET and the National Hurricane Center (NHC) in Miami do not see Maria reaching hurricane strength.
Hurricane Katia
Meanwhile Hurricane Katia continues to churn in the Atlantic southwest of Bermuda.  The NHC sees the storm, currently with 85 mph winds, remaining in the open Atlantic moving north and then northeast and possibly reaching as far as away as Scotland by next Monday as a tropical storm.