Cuba Gets Perfect Game in Taiwan
By Circles Robinson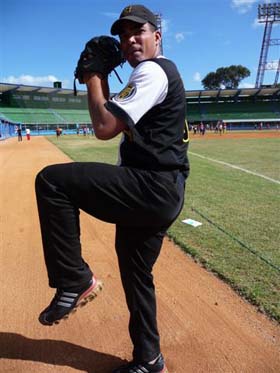 HAVANA TIMES, Oct. 27 — Dalier Hinojosa pitched a perfect game for Team Cuba over Hong Kong in Intercontinental Cup Baseball action on Wednesday won by a score of 20-0 in a five-inning mercy rule shortened contest.
Hinojosa, who plays for Guantanamo in the Cuban League, retired all 15 batters in order including seven strikeouts.  He needed only 47 pitches to complete the feat.
Cuba now moves on to a much tougher second round of the tournament with its first game on Thursday at 6:30 a.m. EST.
During round one Cuba  piled up 43 runs while its opponents were shutout in all four games.
Cuba pounded out 21 hits including a 3-for-5 game from Giorvis Duvergel who hit a grand slam.  Hector Olivera went 4-for-5 with two doubles and three RBIs.  Alfredo Despaigne, Yulieski Gourriel and Yulexis La Rosa knocked in three runs each in the miss-match.
Hong Kong (0-4) was unable to pick up a win in its first Intercontinental Cup competition.
The other Group A first round records were:  Cuba 4-0, Chinese Taipei 3-1, South Korea 2-2 and Czech Republic 1-3.  Hong Kong and the Czech Rep. were eliminated.
In Group B: Japan suffered a surprise shutout loss to Italy 3-0 on Wednesday to force a three-way tie for first with The Netherlands and Italy all 3-1.   The eliminated teams were Nicaragua 1-3 and Thailand 0-4.