Cuba Hands Netherlands First Loss 5-3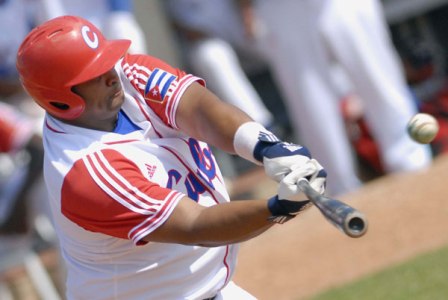 HAVANA TIMES, Sept. 20 – Yosvany Peraza (DH) smashed a three-run double in the third inning and Yulieski Gonzalez allowed only four hits in 7.1 innings to lead Cuba to a 5-3 win over The Netherlands in their final game of Round Two of the World Baseball Cup being played at venues in Holland and Italy.
Both teams finish the round with a 6-1 record and advance to the quarterfinals.
The Netherlands, which fielded almost the same tenacious team as they had in the March World Baseball Classic, scored their first run on a solo homer by Sharlon Shoop.
Peraza's base cleaning double off Diegomar Markwell came after walks to Luis Navas (SS) and Leonys Martin (CF) and a single by Michel Enriquez (3B).
Alfredo Despaigne (RF) hit his sixth tournament home run with nobody on in the top the eighth to give Cuba its fourth run.  Two outs later Navas doubled in Jose Abreu (1B) who had drawn a walk to put the score at a more comfortable 5-1.
Those two late-inning runs proved decisive as The Netherlands came back to score two in the bottom of the eighth on a single by Danny Romley (CF) and a homer by Hanley Statia (SS), the ninth batter in the lineup.
Cuban manager Esteban Lombillo then brought in Pedro Luis Lazo who put out the fire, not allowing a base runner in the final 1.2 innings to get the save while striking out two.
Seven of the eight quarterfinal slots are already decided.  These include Cuba, The Netherlands, Puerto Rico, USA, Chinese Taipei, Australia and Canada.  The final position will be decided on Sunday among Nicaragua, Venezuela, South Korea and Spain, all tied with identical 2-4 records.