Cuba: Havana Housing Suffers New Blow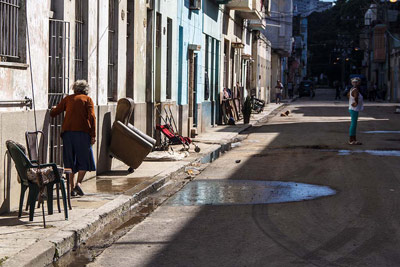 HAVANA TIMES — The rains last week sped up the persistent deterioration of poorly maintained Havana building infrastructure. The Cuban government reports today that at least 135 buildings suffered damage including 18 totally collapsed and two reported deaths.
A total of 417 families were evacuated to the homes of relatives or neighbors or to the 25 shelters set up by the government in the 16 Havana municipalities.
With many buildings in the older sections of the Cuban capital in a state of severe deterioration, the civil defense authorities try to convince the residents not to return to their houses or apartments until their security can be guaranteed.
However, sometimes those families taking refuge prefer to take the risk rather than live several years in a group shelter due to the inability of the government to provide substitute housing or repair existing buildings.
Semi-permanent lodging with relatives can also be highly undesirable beyond the immediate emergency due to high population density with three generations living in many homes.
Also see: Havana Hit by Intense Rain and Flooding