Cuba Hosts International Biennial of Graphic Humor March 31-April 3
By Amaury Ricardo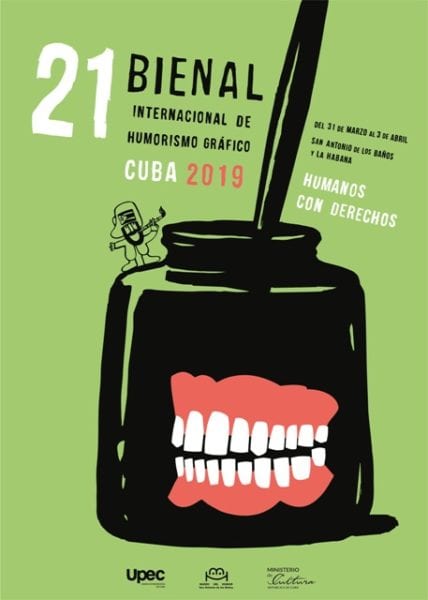 HAVANA TIMES – Now in its 21st edition, the International Biennial of Graphic Humor will be held in Cuba from March 31st until April 3rd. This year its regular exhibition spaces in San Antonio de los Banos have been extended to the country's capital.
Under the title "Humans with rights", fans of graphic humor will be able to enjoy the event at the Biennal's traditional venues, in San Antonio de los Banos (in the Artemisa province that borders Havana to the west), and in different places throughout Havana, as exhibitions have also been scheduled in the capital this year.
In Havana, the venues include the Jose Marti Memorial, Havana University's Communications Department, Juventud Rebelde newspaper's gallery, the Casa del Alba Cultural, the Jose Marti International Institute of Journalism, Cuba's Union of Journalists, Salla Villena in the national UNEAC office and the studios of the cartoonist ARES.
For this edition, the organization committee received over 1300 submissions, and they have selected 299 of these from 209 artists from 43 countries (across Eurasia, Africa and the Americas), that will take part in the competition in the Personal Caricature, Photography, Comic Strip, Political Satire, General Humor categories, as well as compete for the Eduardo Abela Grand Prize.
The jury this time around is made up by Zenaida Manes Rodríguez (Cuba), Cecile Bertrand (Belgium), Osvaldo Macedo de Sousa (Portugal), Carlos Alfredo Ruiz Moisa (El Salvador), Kosei Ono (Japan), Liza Donineklly (USA) and Alberto Martirena Hernández Lorenzo (Cuba).
Click on the thumbnails below to view all the photos in this gallery. On your PC or laptop, you can use the directional arrows on the keyboard to move within the gallery. On cell phones use the keys on the screen.