Cuba in Slow Motion over Lack of Fuel
The trending question in the social networks of Cubans is: "Where is there fuel?"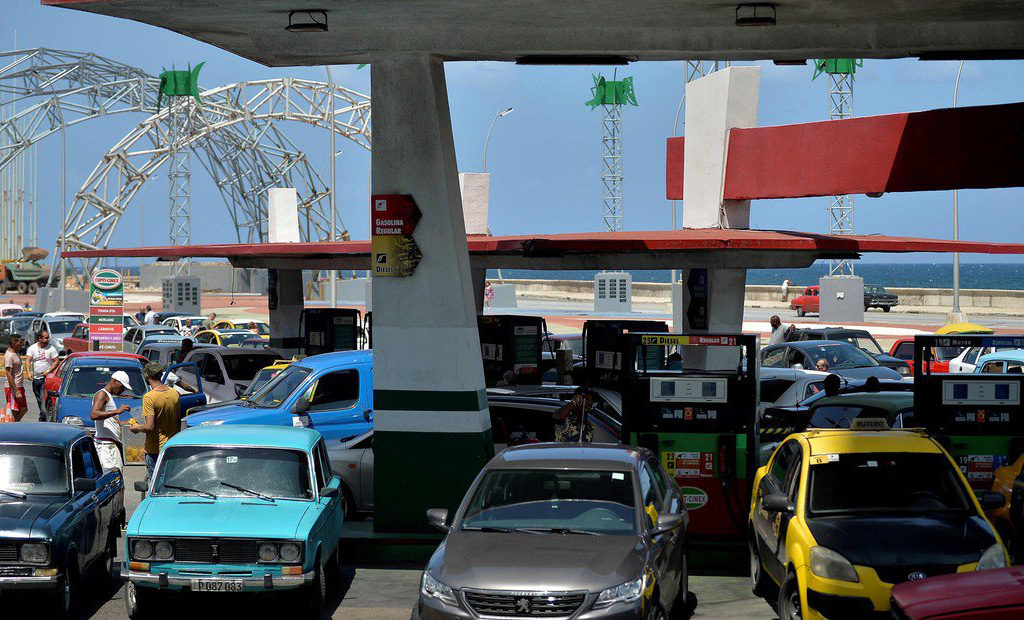 HAVANA TIMES – Last Wednesday night and early Thursday, Ernesto Mirabal practically did not sleep: this Cuban taxi driver had to make a line of almost five hours at a gas station, at a time when the lack of fuel forces the socialist island to live in slow motion, reports the AFP.
"I arrived about 11 o'clock and threw gas at four, because at seven I had service (a client)," says Mirabal, 48. Otherwise, I would have had to "dedicate (his) day of work."
"Now I have gasoline for today and tomorrow, but the day after tomorrow I have to go back to the odyssey," he adds and points out that among his colleagues there is an environment "of much stress and much uncertainty."
Since President Miguel Díaz-Canel on September 11 called for "austerity and savings" of fuel, due to US sanctions against shipping companies that transport Venezuelan oil, winds of panic blow for a sector of the population that ran to stock up on fuels.
Venezuela is the main political ally and supplier of crude oil on highly favorable terms to the island.
In Cuba, which connected 3G (mobile internet) in December, social networks are running at full speed during this crisis, which the authorities call "temporary."
The images of endless lines at the service stations are multiplied on Twitter and Facebook, and WhatsApp groups were created around the question: "Where is there fuel?"
The drastic savings measures implemented in recent days, make many Cubans evoke the dark days of the "Special Period", the serious economic crisis of the 90s, after the collapse of the USSR, the main financial and energy support of the Island.
Some of these measures are identical to those taken 25 years ago: public transport was reduced to a minimum, while police officers stop all state cars to force them to carry passengers.
In the sugar cane fields, Cuba's main export product, thousands of oxen will replace the machines.
In companies and public administration offices the workday is reduced, it is forbidden to turn on the air conditioning equipment and there are power cuts at some times of the day. Some employees are unable to work and others work from home.
Likewise, the frequency of garbage collection in the streets of Havana was reduced, a situation that complicates the fight against dengue, as recognized by the Ministry of Health.
Economist Omar Everleny notes that the fuel panic situation has a simple explanation: "People think that it will be worse later, despite what the authorities are saying," who promised a return to normalcy in October.
"People think it's going to end and then everyone is trying to hoard as much fuel as possible," adds Everleny.
At gas stations, many drivers refuel and fill fuel cans, despite signs that prohibit this practice. "If you are going to wait in a line of three blocks, you are going to buy four, five times what you bought before," explains the economist.
In the face of the crisis, the government multiplies the reassuring messages. Díaz-Canel asks "to think like a country", with repeated calls to unity.
"Imperialism will not make our lives bitter or take our sleep away. We face this situation, we systematize saving measures, we will prepare, we will grow and we will win," he tweeted Thursday.
However, the economic horizon seems bleak. "If you have paralyzed the country, where are you going to achieve growth?" Everleny wonders and notes that tourism figures in the first half showed a decline in European visitors, which will soon be added to that of US citizens, who since June have been banned from traveling to the Island on cruise ships.
Everleny believes that the current shortage reveals "a currency crisis" in the country, unable to buy oil outside Venezuela, where it has payment facilities in exchange for sending thousands of doctors.
With respect to the promised return to normalcy in October, he warns that "is to return to a period of low growth and uncertainty."