Cuba in these Days of Hurricanes and Tropical Storms
By Yanet Diaz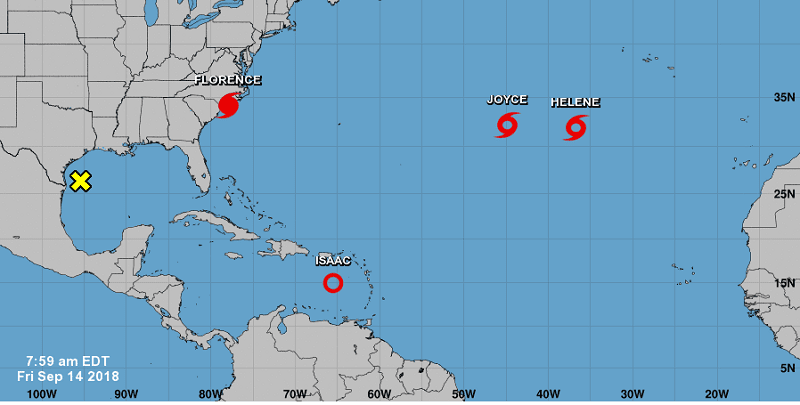 HAVANA TIMES – September is within the most intense period of the North Atlantic hurricane season, therefore, it is the most favorable month for the formation of tropical cyclones in this region of the planet.
At the moment there is intense cyclonic activity, consisting of a Category 2 hurricane (Florence), three tropical storms (Isaac, Joyce and Helene) and a disturbance in the Gulf of Mexico that is likely to become a tropical depression in the coming hours.
Florence, which will touch land on Friday on the East Coast of the United States, is an intense hurricane whose moving over the waters of the North Atlantic has been relatively slow. Its current position facilitates not weakening in intensity, since it is in the middle of the warm flow of the Gulf Stream. However, once it enters into continental areas, the wind field of the central hurricane region will be weakened.
Meanwhile, in the Caribbean tropical storm Isaac is moving westward at an approximate speed of 27 km/h. The forecasted path indicates that it will continue with this course during the next days and with a similar movement speed, however, there is uncertainty in the prediction of this system.
If the current atmospheric conditions persist – a layer of dry air and changing wind in the height – Isaac will weaken, becoming a tropical depression, and turning his course towards the south, without representing danger for Cuba. If, on the contrary, it strengthens as it passes through the Caribbean Sea, which is less probable according to current forecasts, it will be able to shift slightly to the north, affecting some regions of the island.
It is necessary to keep abreast of Isaac's path and intensity forecasts. However, under the current weather conditions, this system is not expected to affect Cuba for the next two to three days.