Cuba Increases Land Leases to 20 Years
Other new measures also announced for the self-employed
By Fabian Flores  (Cafe Fuerte)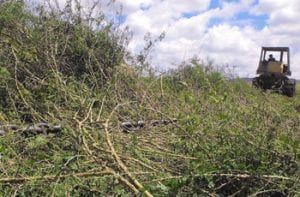 HAVANA TIMES — The Cuban government has announced that it will extend land leases to 20 years so that citizens can continue farming them, and it also made clear that it would impose "a set of measures" regarding self-employed labor in the country.
Both decisions arose during the latest Council of Ministers meeting, where President Raul Castro was present. The meeting was held to analyze the performance of the national economy during the first semester of this year, stated the official Granma newspaper on Friday.
Marino Murillo, head of the Permanent Committee on Implementation and Development of the Communist Party economic guidelines, explained at the meeting that leasing idle state-owned land to individuals will be extended to 20 years (it used to be 10), and that another 20 year extension will be possible.
Limited applications
Murillo added to the list of things that void the contract, that the lease will end if illicitly obtained funds are used and it will also be established that "the precept to receive land is that the person has to work the land and manage it individually and directly."
Data reveals that ever since this measure was put into practice in 2008 and up until September 2016, 1,917,000 hectares of land had been issued, which makes up 31% of Cuba's farming land.
Murillo noted that today, land applications are limited due to the fact that lands available are less productive, overtaken by the dense marabu bush weed, and are far removed from towns and basic services, and also have problems with accessing water sources.
"It has been confirmed that lands leased are non-transferable property belonging to the State and should be used, preventing poor land use and production losses," the article pointed out.
The decision has come days after an official report indicated that over half of the country's arable land is barren. Just 2.7 million out of the 6.2 million hectares of land available, were cultivated last year.
The Cuban state is the owner of 80% of the land and has handed out small plots to approximately 200,000 Cubans since 2008.
Control over the self-employed
The meeting of Cabinet ministers also announced that new measures will be introduced so as to contribute to improving the organization and control of self-employed labor, which over half a million people practice in Cuba today.
Nevertheless, details about this "set of measures" weren't specified, not even when they will be published. The newspaper only said that "the Cuban press will offer more details as part of the disclosure process that will accompany the implementation of changes."
However, this is clearly more about control and auditing the self-employed's labor, in line with references from the article about problems detected in this sector.
"Digressions have been detected in the drawing up of policies such as raw material usage, material and equipment from illegal sources; failure to meet tax obligations and subdeclaring income; inaccuracies and a lack of control; and deficiencies in financial contracts for providing services or products between legal entities and individuals," the article stated.
More tourists, less meat and milk
At the meeting, the Minister of Economy and Planning, Ricardo Cabrisas, stated that the national economy is moving forward "in correspondence with forecasts drawn up for planning 2017", without going into any greater detail.
Other issues of financial interest revealed at the meeting were:
Main agricultural crops reported favorable meetings of targets, and root vegetables and vegetables surpassed their targets. This wasn't the case with milk and beef however, whose production levels lay below the anticipated level.
Transport has had problems with freight, especially the railway system.
Sugar production has increased by 20% during the most recent harvest, but it still missed the target by 300,000 tons. Official estimates state that it was the highest figure in the last 15 harvests.
The number of tourists was more than 2,260,000 visitors through May, which represents a 20% growth when compared to the same time period in 2016.
Water supply reservoirs for human consumption are at 43% and those dedicated to ensuring rice farming are at 27% of their capacity.
The Council of Ministers meeting is regularly held before a Communist Party plenary session, in preparation for the next regular session of the National Assembly of the People's Power, set to take place on July 14th.