Cuba-INSMET: TS Ernesto Weakens Slightly
By Circles Robinson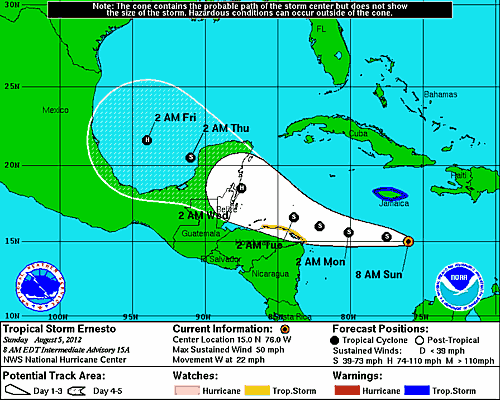 HAVANA TIMES — Tropical Storm Ernesto weakened slightly last night and is now packing 50 mph winds as it moves swiftly west heading for the Yucatan Peninsula, reported the Cuban Weather Service (INSMET) on Sunday morning.
Today the storm is expected to pass south of Jamaica where an alert is in effect and the eye of the storm could pass close to the northern Honduran coast by sometime late Monday, where a warning is in place to activate civil defense.
At 6:00 a.m. EDT the center of the weather system was located at 220 miles south-southeast of Kingston, Jamaica and around 500 miles from Cabo Gracias a Dios on the Honduran-Nicaraguan border.
Ernesto continues to move swiftly on its course at a speed of 21 mph, noted INSMET.
The Cuban weather experts see Ernesto slowing down some in its movement speed in the next 24-48 hours and possibly gaining in organization and intensity.
The National Hurricane Center (NHC) predicts the storm will reach hurricane strength by Wednesday, the day it is currently projected to touch land on the Yucatan peninsula, now foreseen for north of the Belize-Mexico border.