Cuba Loses 3rd Straight 1-Run Duel to US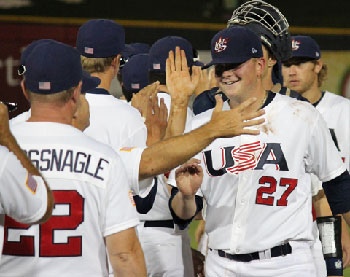 HAVANA TIMES — The exhibition series between the Collegiate National Team of the USA and the Cuban national team has turned into a showcase of pitching.
On Saturday night the host Americans managed their third straight one-run victory 1-0 on a sacrifice fly in the fourth inning from Michael Conforto scoring Trea Turner.
The five game series already has a winner with the USA sweeping the first three games 2-1, 3-2 and 1-0 but continues on Monday and Tuesday.
The play is excellent practice for Victor Mesa's team Cuba to get a good look at the pitching of some of the best Major League Baseball prospects.
Norge L. Ruiz pitched into the eighth inning what normally would be more than good enough to win but USA starter Brandon Finnegan also pitched a gem backed by flawless fielding to get the win. Ruiz struck out five of the first nine batters he faced and 11 rivals for the game.
Commenting after the game, Finnegan told USA baseball: "I threw a lot of sliders and they missed a lot of them. I had all three of my pitches working. I was rolling and I let my defense do the work. It's been a tough series, but they are the best in their country. It's unreal to be able to play against them."
The USA sealed their win with relief work from David Berg and Chris Diaz in the eighth and Ryan Burr closing the ninth.
"To come back and win on our own turf against a very good team is awesome," said Burr. "It's awesome to play in front of your own crowd. Your friends and family are here to watch. It's hard to put into words."
Game four of the series is on Monday night at 7:05 p.m. (ET) in North Carolina. All the games are being broadcast live on Internet by usabaseball.com.