Cuba Loses a Baseball Hero: Luis Felipe Diaz (1971-2014)
Peter C. Bjarkman*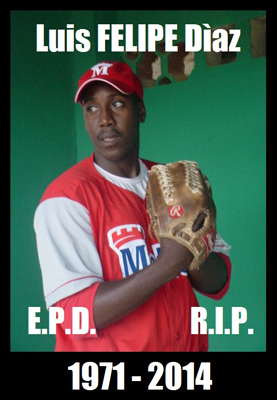 HAVANA TIMES — Sad news from Havana this morning reports the unexpected and shockingly premature passing of veteran National Series lefthander and current Industriales pitching coach Luis Felipe Díaz.
The towering southpaw – a veteran of 16 National Series seasons with the Havana Metros ball club – was struck down by a massive heart attack early Thursday morning at the young age of only 42 years.
The loss was especially felt by capital city ball fans and was also a severe personal blow for this author, who had maintained a close friendship with Felipe over the past decade and had enjoyed a reunion visit with the bulky southpaw only last Friday evening in the Industriales clubhouse at Capitan San Luis Stadium in Pinar del Río.
Felipe Díaz debuted with the Metropolitanos team in National Series XXX (1990-91) and made his single national team appearance seven years later during the 1998 World University Games staged in Havana's Latin American Stadium.
Over his 16-season pitching career he won 86 games and dropped 103 for a Metros outfit that was often an also-ran and league cellar dweller. His career stats also featured a 4.93 ERA, 278 games pitched (231 starts), 50 complete games, 47 relief appearances (with 5 saves), 15 shutouts, 1444 innings pitched, a .291 BA by opponents, 720 strikeouts, and 655 walks.
Perhaps his most memorable individual season came in 1998 (National Series XXXVII) as the acknowledged ace (8-6 record and a team-best 20 starts) for a Metros club that enjoyed a rare post-season appearance.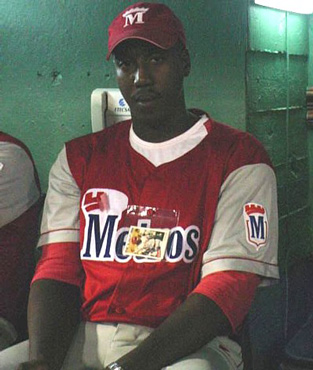 That spring Díaz claimed one of the two Metros quarter-finals wins, besting Habana Province southpaw Yulieski González (by an 8-1 count) to temporarily deadlock the series at two games apiece. His swan song campaign was National Series XLV (2005-06) where he won three and lost six, posting an elevated 9.50 ERA and striking out only 26 while issuing 34 free passes for a weak Metros club that posted a league-worst 19-69 ledger.
A natural teacher of pitching techniques and a master of hurling psychology, Díaz served as pitching mentor for his old ball club during the final several seasons of that team's existence (Metros was disbanded after the National Series LI in 2012).
After spending last year working with Developmental League prospects in Havana City, Díaz this year joined the Havana Industriales team as an assistant pitching coach under manager Lázaro Vargas. During those recent months he played a significant role in resurrecting the career of veteran right-hander Frank Montieth, league ERA pacesetter during the first half of the current season before being sidelined by injury.
Luis Felipe Díaz will be sorely missed on the Havana baseball scene. Despite a less than stellar career ledger, he built a reputation as a tireless worker, a dedicated student of the game, and an inspiration to young ballplayers throughout the city. Gregarious and always smiling, Felipe was also a charismatic ambassador of the Cuban national sport to which he devoted the majority of his tragically short life span.
—–
(*) Read Peter C. Bjarkman's columns at Baseballdecuba.com.