Cuba Men's Volleyball Qualifies for Olympics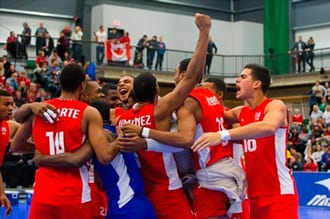 HAVANA TIMES — The Cuban men's volleyball team scored an upset win over host Canada yesterday in the finals off the 2016 NORCECA Olympic Qualifying Tournament in Edmonton.
Canada went into the match ranked 10th in the world and Cuba 15th. But Cuba used a strong service and blocking at the net to win in straight sets 25-15, 25-21 and 25-21.
The Canadians still have a chance to qualify for Rio 2016 at a tournament in Japan this coming May.
Rolando Cepeda led the Cubans with 21 points, including five aces. Osmany Uriarte, Luis Sosa and Javier Jimenez added 8, 7 and 6 points respectively.
John Gordon finished with 12 points to lead the defeated Canadians.
After the match Cepeda, Cuba's team captain said: "It was about time. In 2012 we lost the opportunity [to go to the London Olympics] in five sets vs. Germany. We went out there to win. Winning the first match of the tournament 3-0 gave us confidence. We had lost many times previously to the Canadians," he noted.