Cuba Milk and Egg Production Drops Again
By Daniel Benitez  (Cafe Fuerte)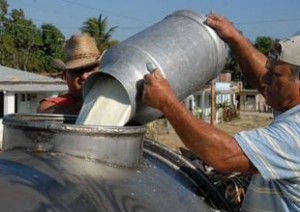 HAVANA TIMES — The production of cow's milk in Cuba fell once again (by 10.5 million liters) in the early months of the year, keeping the downward trend since 2013.
The production decline in the first quarter of 2015 (around 12%) compared to the same period of the previous year seems to be influenced by an elementary factor: 19.000 fewer milking cows.
The figures from the National Bureau of Statistics and Information (ONEI) show a production from January to March of 76.9 million liters. The average yield of the 311.000 cows milked was 2.7 liters.
But it's not only the cows delivering less milk. Also buffaloes and goats decreased their production by 200 thousand and 100 thousand liters respectively.
The promised glass of milk
The numbers indicate that today in the Cuban countryside there are some 6,900 buffaloes ready to deliver milk, 4.000 less than in 2014. The goats also decreased, as the 11,900 registered mean seven thousand less than the previous year.
The results show that the glass of milk that President Raul Castro promised on the table of all Cubans in 2007 is still far from reach, even though the price of milk powder in convertible currency (CUC) was reduced in April this year.
The situation of eggs for sale was not promising either: in the first quarter of 2015, 2.7 million units less were obtained compared to last year.
The agricultural sector has in the non-state entities, such as the different cooperatives called UBPCs, the CPA and CCS, and the private individual growers, the main producers of meats, vegetables and all kinds of food. The greatest contribution of government farms is in citrus: 36.5 percent of what was harvested and 22.9 percent of the potatos.
The state participation in corn (2.2%), fruit (2.7) and tomatoes (5.7), is minimal compared to what comes to the markets and shops of the Island.
Pork, new prices
However, where the state continues to exert significant market presence is the selling of live pigs and pork meat sales in state markets. From January to March this year government coffers for these showed a 110% increase in revenues.
In May, the government announced new prices for pork in the country.
Resolution 238/2015, issued by the Ministry of Finance and Prices approved the maximum selling price for live pigs at 12.24 CUP (around 0.60 USD) a pound, when the animal has a weight equal to or exceeding 80 kilograms.
If the pig weighs less than 80 kg, the price is set by agreement between the state pig breeders and the meat companies.