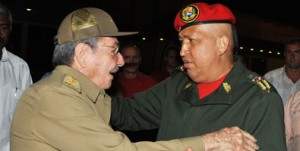 HAVANA TIMES — The Cuban government declared two days of mourning for the death on Tuesday of Venezuelan President Hugo Chavez, considered "as a true son" to Fidel Castro and "beloved" friend of President Raul Castro, reported dpa news.
"Chavez is also Cuban," said a note from the Havana government read on state television, hours after Chavez died in Caracas at age 58 due to cancer, which he had fought since mid-2011.
"We express our sincere condolences to Chavez's parents, brothers, daughters and sons and all his family members who are ours, as Chavez is also the son of Cuba and Latin America," the statement added.
The Venezuelan leader spent much of his last two years of life in Cuba, where he underwent four operations for cancer and the subsequent recovery periods, plus returning for post operation treatments.
Chavez returned to Caracas on February 18, after spending ten weeks in Havana including his final operation on December 11.
The government of Raul Castro recalled that Cuba received crucial support from Venezuela when the island was still reeling from the "Special Period" of the '90s, after the demise of the Soviet Union.
Caracas became a strategic ally of Castro's Cuba since Chávez came to power in 1998. The Venezuelan government sells about 100,000 barrels of oil a day to the island on preferential terms in exchange for medical and educational services.
"He felt our difficulties and problems and did his best, with extraordinary generosity," the statement said.
The streets of Havana were soon buzzing with the story. "This is bad news for Cuba and Cubans," Luis Manuel Bermudez, a 22 year old student of Philosophy and History told dpa. "He has been very important for Cuba," he added.
"It's no secret that the cooperation has been very important for Cuba," said Rafael Leyva, 24.
"I feel a lot of pain," said a 55-year Havana woman crying in front of the Venezuelan embassy in Cuba shortly after the announcement..
The Cuban government ordered that the flag be flown at half-mast Wednesday in government buildings and military installations for the official mourning.