Cuba Movies at Havana Film Festival
Irina Echarry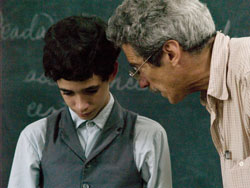 HAVANA TIMES, Nov. 27 — Among the movies competing in this 32nd International Festival of New Latin American Cinema, Cuba is presenting four films: Fernando Perez's José Martí: el ojo del canario; Casa Vieja, by Lester Hamlet; Larga Distancia, by Esteban Insausti; and Boleto al Paraíso, by Gerardo Chijona.  The festival gets underway on Dec. 2 and runs through the 12th.
The general public has only seen cinema screenings of Fernando Perez's work, which is a valuable recount of the human qualities of the Cuba's "national apostle," who is almost always placed on the pedestal of the irreproachable hero.  The other three films will be national premieres.
Boleto al paraiso is a fictional account dealing with AIDS, though it's based on the testimonies of patients, the experience of one doctor (Jorge Perez, the deputy director of the Havana Institute of Tropical Medicine, or IPK) and acquaintances of the former director of the sanatorium popularly known as "Los Cocos" (the Coconuts).  That facility was the internment center for those who first were infected by HIV when the illness hit the island.  Now the situation has changed somewhat; most people who are seropositive now live in their homes and receive free ambulatory treatment, as does any other person in Cuba who is ill.
Ana is turning 35 and realizes that she doesn't have anyone to invite to her birthday party.  This is the point of departure of Larga Distancia, a movie that reminds us of the importance of friends.  According to its director: "[this movie was created] with the tremendous responsibility of recounting the fable of millions of Cubans on both shores" (in 2002, according to studies by the Mexican university UNAM, almost 1.4 million Cubans live abroad, the overwhelming majority in the United States (1.2 million)."
Casa Vieja is made from the play by Abelardo Estorino and takes place in the early years of the Cuban Revolution.  Now we'll see it re-contextualized.  A family and social drama are brought into contemporaneity with issues of sexual abuse, marginalization and extremism.  Enrique, gay, is told of his father's death and returns to his parent's home, where he must confront both his memories and his family.
The works of veteran directors, along with others even younger, is what Cuba is offering – in addition to documentaries, shorts and animations to be shown at this anxiously awaited 2010 edition of the festival.