Cuba Names World Baseball Classic Team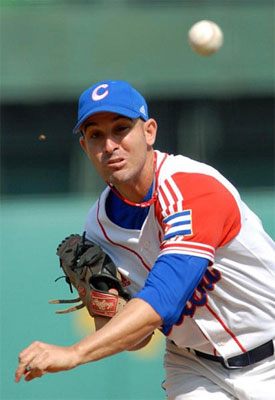 HAVANA TIMES — Cuban sports authorities announced yesterday the preliminary team that will represent the island in the World Baseball Classic III that begins March 2 in Fukuoka, Japan.
The squad of 28 players includes three catchers, six infielders, six outfielders and 13 pitchers, reported Baseballdecuba.com.
Cuba will play the first round in Pool A along with China, Brazil and host Japan, the winner of the first two WBC championships.
Cuba finished second in the first classic in 2006, but didn't make it out of the quarterfinals in 2009.  Both times Japan was the team they couldn't beat.
The Classic III team is highly renovated with only three members having played in both the previous two tournaments, infielder Yulieski Gourriel, outfielder Frederich Cepeda and left handed pitcher Norberto Gonzalez.
From the 2009 team there are eight returning players: Cepeda, Yulieski and Alfredo Despaigne and pitchers, Norberto Gonzales, Danny Betancourt, Ismel Jimenez, Vladimir Garcia and Yulieski Gonzalez, noted Baseballdecuba.com.
The most notable change involves the substitution of catcher Ariel Pestano, a fixture on the national team for the last 13 years.
Team Cuba, like the other teams, can still make changes if necessary up until February 20.
Here are is the preliminary squad:
Catchers: Yulexis La Rosa, Frank Camilo Morejón y Eriel Sánchez.
Infielders: José Dariel Abreu, Luis Felipe Rivera, José Miguel Fernández, Andy Ibáñez, Yulieski Gourriel y Bárbaro Arruebarruena.
Outifelders: Frederich Cepeda, Alfredo Despaigne, Rusney Castillo, Alexei Bell, Guillermo Heredia y Yadiel Hernández.
Pitchers: Freddy Asiel Alvarez, Ismel Jiménez, Raciel Iglesias, Odrisamer Despaigne, Norberto González, Darien Núñez, Wilber Pérez, Yulieski González, Vladimir García, Alexander Rodríguez, Danny Betancourt, Vichyoandri Odelín y Yander Guevara.
Coaching Staff: Víctor Mesa is the manager, and Jorge Fuentes the head coach, plus Primitivo Diaz, Angel Castillo, Juan de Dios Peña, Jose Ramon Riscart, Pedro Jose Rodriguez, Victor Figueroa.