Cuba Opens with 3-2 Loss to Puerto Rico
All That Starts Badly Doesn't Always Necessarily End Badly
PETER C. BJARKMAN*, Special from Haarlem, Netherlands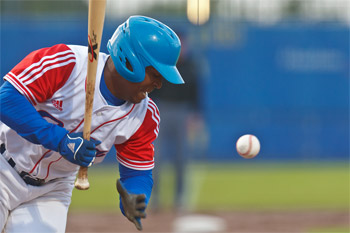 HAVANA TIMES — Team Cuba has been all too regularly plagued by painfully slow starts over here on Dutch soil. Last year's embarrassing opening day rain-plagued and error-filled loss to unheralded Curacao at the World Port Tournament in Rotterdam was a low-point of recent seasons, even if the Cuban squad on the field was a B-level club and not a top all-star roster.
A 2008 knockout seven-inning 10-0 whitewashing suffered by another backup Cuban squad (managed by Germán Mesa) at the hands of the host Dutch in early Haarlem opening-round action provided the most lopsided defeat at any level for the red-clad forces in nearly a half-century.
And also not to be overlooked in this litany of sluggish openings was a shocking early second-round upending by Puerto Rico in Amsterdam during World Cup 2009 (a setback that came on the heels of a 10-0 Cuban blitzing of the same Borinquen squad in Barcelona a mere week earlier). Such regular Holland disasters have remained a rare and inexplicable phenomenon for the long-reigned international baseball kingpins sporting Cuban colors.
The apparent "Dutch curse" even spilled over to Panama during last September's IBAF World Cup sessions. The only blemishes on the Cuban ledger in that outing were registered by the eventual world champion Orangemen who logged 4-1 and 2-1 victories over a pre-tourney favorite islanders outfit managed by Alfonso Urquiola.
In those recent encounters Cuba was limited to five hits and a single run in each outing by a pair of effective Dutch starters (newcomer Orlando Yntema and veteran Robbie Cordemans) plus a trio of veteran bullpen reinforcements. Uncharacteristically subdued Cuban bats came up short in the Gold Medal finale when Héctor Olivera's sharp ninth-inning liner to third stranded the game-winnings tallies on first and second base.
It was precisely those bitter loses in Panama last fall that have spurred so much chatter (especially here in Holland) about the Cubans arriving in Haarlem this month with a very obvious revenge motive. A tournament win here over the Dutch (admittedly not the same World Cup club that was laced with top MLB prospects) on their home soil might work to even up the score a bit.
And then there is also the revenge scenario when it comes to yet another face-off with the forces of USA Baseball. It was a USA minor-league all-star club that knocked the Cubans out of last fall's Pan American Games finale in Guadalajara, Mexico; and it was also the Americans who ended Cuba's two-decade-long World Cup domination with gold medal triumphs at Taipei in 2007 and Nettuno two years later.
Conceivably Victor Mesa and Company were simply looking too far ahead in the schedule  – perhaps anticipating Sunday's ballyhooed  matchup with the rival Americans, or the locally much-anticipated square-off on Wednesday evening with the defending world champion Dutch squad. Or it might have been the aftereffects of a lengthy road trip, or even the fact that everyone seems to reserve both their top game and their top pitchers for the respected Cubans.
The Opening Game with Puerto Rico
Whatever the explanations, this year's edition of Team Cuba has again stumbled out of the gate here in Haarlem with an underwhelming offensive performance and an unlikely opening night setback. An effective if not exactly eye-popping 3-innings-plus by veteran southpaw starter Luis Cintrón, coupled with a gutsy 4.2 innings of solid relief by replacement Benigno Cepeda, was sufficient to silence Cuban bats for all but one brief uprising.
The result was an emotional 3-2 upset victory for the José Flores-managed and upset-minded Borinquen ball club. For the stunned Cuban forces it was yet another hard-to-swallow initial setback that has early-on already put the tourney favorites squarely behind the proverbial eight ball.
The evening began on a rather ominous note when Yadir Pedroso surrendered a ringing homer to Aldo Mendez, the game's leadoff batter. That single fateful shot would eventually provide the slim margin of defeat for the losers, but only after a tense nine-inning struggle that saw Cuban squander its limited opportunities while Puerto Rico at the same time managed to cash in on its own mere handful of offensive chances.
On the whole Pedroso did not pitch badly, striking out six and walking but one in four innings of labor. Replacement Ismel Jiménez was also mostly solid over 3.2 frames, also striking out four but eventually yielding a two-out tally (on a single by Radames Nazario) that built the final 3-2 margin in the top of the eighth. Norberto González and Pablo Fernández closed out the final two frames without permitting further damage and normally the three-run opposition uprising would not have been insufficient to overhaul a usually potent Cuban offense.
On this particular night, however, the Cuban mound corps was simply outshone and obviously upstaged by more solid clutch Puerto Rican bullpen work.
Each team managed only a scant pair of true scoring threats during a knuckle-whitening game highlighted by pitching heroics and offensive shortcomings. After the Mendez first-inning homer Puerto Rico remained largely dormant expect for the fourth and eighth frames when Jorge Jiménez and Nazario managed to slap their opportunistic two-out singles into right field with runners in scoring position.
Cuba had its own chance to blow the game open in the home fourth when Bell was hit by an errant Cintrón pitch, Gourriel received a free pass, and Cepeda slammed a double off the center field wall. But with two runs already home, Cepeda logged on second, and still no outs, the golden opportunity quickly vanished. With cool-tempered Benigno Cepeda on in relief, Despaigne, Abreu and Reyes (a strikeout sandwiched between two infield rollers) all failed to deliver the lead-producing base hit.
Cuba's only other serious late challenge was manufactured with two out in the bottom of the eighth. After pinch hitter Alex Guerrero struck out and additional replacement William Luis flied to deep center, Rusney Castillo singled into left and Alexei Bell walked to keep hopes alive. But fate was not on the Cuban side when Gourriel drilled a sharp liner into the glove of shortstop Nazario off a fat delivery from closer Rabell Rivera. At that point the door was effectively closed.
In the end the heroes for Puerto Rico were relievers Benigno Cepeda (designated "Man of the Match" by the Dutch press), who worked 4.2 near-perfect scoreless innings to pick up the victory, and Rabell Rivera, who eliminated the heart of the Cuban order (Cepeda, Despaigne and Abreu) in the ninth frame on a strikeout (Despaigne) and two harmless infield rollers.
None among the trio of Puerto Rican hurlers possessed a particular overwhelming arsenal but throughout the game the Cuban batters seemed overanxious and off balance in their approaches at the plate.
No losses are ever entirely welcomed in a short-schedule event like this one, but it is always far better to lose early rather than to stumble later on during the round-robin tournament format. Hence the reality remains that only two of six teams will be eliminated during the opening-week round robin session and no single victory or defeat claimed on the first weekend is therefore likely to determine a team's fate either up or down.
Much serious baseball remains to be played over the coming nine days and once the free-for-all semifinals between the four surviving clubs are reached next weekend all early game results will obviously be thrown out the window.
Momentum is always valued, however, and victory over the Americans on Sunday night is now of the highest priority. No team wishes to stand at 0-2 and thus to face the task of needing three straight wins to assure playoff qualification.
Team USA has to be worrisome since the Americans offer far more potent pitching than do the upstart Puerto Ricans. Several top collegians – including righties David Berg (UCLA) and Jonathon Crawford (Florida) and southpaws Carlos Rondon (NC State) and Marco Gonzalez (Gonzaga) – toss consistently in the mid-nineties and are top big league prospects.
The five just-completed exhibition games staged in Havana were all competitive and four went down to the late-inning wire. Cuba will now need yet another strong outing from ace Freddie Asiel Alvarez, who already no-hit the Americans through five frames last week in Latin American Stadium on route to a series-clinching victory.
But more than anything the sluggish Cuban bats will now have to awaken if a championship pursuit is to be in the offering. Last year's Cuban B-level lineup managed by Roger Machado never got completely untracked during a silver-medal runner-up finish in Rotterdam.
The same was true for the Germán Mesa-led club a year earlier here in Haarlem. It has been an historical trend that will now have to be rather quickly reversed. If it is not, then a rather short five-game opening-round schedule might very well prove to translate into a painfully long week here in rain-soaked Haarlem.
—–

(*) Peter C. Bjarkman is author of A History of Cuban Baseball, 1864-2006 (McFarland, 2007) and is widely recognized as a leading authority on Cuban baseball, both past and present. He has reported on Cuban League action and the Cuban national team for www.BaseballdeCuba.com during the past four years and is currently completing a book on the history of the post-revolution Cuban national team.