Cuba Opens World Cup vs. Puerto Rico
By Circles Robinson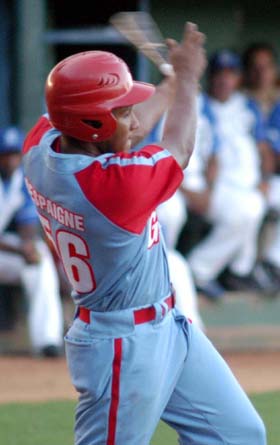 HAVANA TIMES, Sept. 10 – Cuba plays its first game in the 38th World Cup Baseball Tournament today against Puerto Rico in Barcelona, Spain. The Cubans hope to retake the title they lost in the finals to the United States in 2007.
Puerto Rican manager Eduardo Perez announced 35-year-old right-hander Jose Santiago to start against the Cubans; while the team managed by Esteban Lombillo will start right-handed veteran Norge Luis Vera, 37.
The Cuban manager said his first game lineup includes Leonys Martin playing centerfield and leading off followed by Michel Enriquez (3B), Yulieski Gourriel (2B), Frederich Cepeda (DH) cleanup, Alfredo Despaigne (LF), Yoennis Cespedes (RF), Jose Driel Abreu (IB), Ariel Pestano (C) and Luis Miguel Navas (SS).
Game time is 7:00 p.m. (1:00 p.m. in Cuba).
The first round of this edition of the World Cup takes place at five European venues.
Group A (hosted by the Czech Rep. in Prague) also includes Australia, Chinese Taipei and Mexico.
Group B (hosted by Spain in Barcelona) also includes Cuba, Puerto Rico and South Africa.
Group C (hosted by Sweden in Stockholm) also includes Canada, South Korea and the Netherlands Antilles.
Group D (hosted by Croatia in Zagreb) also includes Great Britain, Japan and Nicaragua.
Group E (hosted by Germany in Regensburg) also includes China, USA and Venezuela.
The first two teams in each group are guaranteed a pass to round two along with some third place finishers.  The Netherlands and Italy have a bye into the second round.
The first tournament games took place on Wednesday with Spain routing South Africa 15-0, Australia clubbing the Czech Republic 17-4 and Germany routing China 14-1.  In the only close game The Netherlands Antilles defeated Sweden 10-8.