Cuba Playoffs Tied, Games 3 Saturday
By Circles Robinson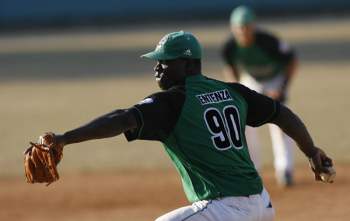 HAVANA TIMES, April 9 — Ciego de Avila and Cienfuegos managed to tie their playoff semifinals with Granma and Pinar del Rio and the four teams square off in game three on Saturday.
After losing its opener, Ciego de Avila blew a 5-3 lead but scored a run in the bottom of the tenth against Granma reliever Alain Tamayo on Thursday to win 6-5 and even their best of seven series at one game each.
Infielder Raul Gonzalez drove in two for Ciego de Avila while Alfredo Despaigne led Granma with a homer and two RBIs. Vladimir Garcia picked up the win with five innings of one-run relief.
Meanwhile in the Western Division semifinals Cienfuegos rebounded for a 10-6 romp over Pinar del Rio, taking a 9-1 lead after four innings. Left fielder Lazaro Rodriguez had three hits including a homer while driving in four runs for Cienfuegos. Designated hitter Osvaldo Arias added three RBIs for the winners.
William Saavedra led Pinar del Rio with two hits and the same number of RBIs.
The winning pitcher was starter Noelvis Etenza who allowed only two hits and one run over six innings. The loser was Yosvani Torres who gave up the first five Cienfuegos runs in only 1.1 inning.
Both series resume with game three on Saturday. Ciego de Avila travels to Granma and Cienfuegos to Pinar del Rio.