Cuba Playoffs with Pinar & Granma up 2-1
HAVANA TIMES, April 10 — Cuba's baseball semifinal playoffs see Game 4 action on Sunday with Pinar del Rio and Granma both taking 2-1 series leads on Saturday.
In the Western Division, Pinar del Rio, the only frequent post season team left in the playoffs, shut down Cienfuegos 7-1 on stellar pitching by Julio Alfredo who went eight innings allowing eight hits and one run while striking out six.  Norberto Gonzalez took the loss allowing five runs on ten hits in seven innings.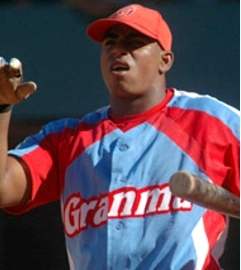 William Saavedra, Luis Alberto Valdes and Reinier Leon led the Pinar del Rio offense driving in two runs each.  Valdes and Leon both homered.
Cienfuegos only run came on a fifth inning homer by Erisel Barbaro.
Meanwhile in the Eastern Division, Ciego de Avila batted four home runs but to no avail as they were totally overpowered by Granma 14-6.
While the fireworks still hadn't ended, for all practical purposes Granma blew out Ciego with a nine run second inning.
Neither starting pitcher was around long with Ciego's Pedro Echemendia getting the hook in the second inning and Granma's Lazaro Blanco lasting only 2.2 innings.
The winning pitcher was Granma reliever Alberto Soto who gave up two runs in 6.1 innings.  Echemendia took the loss for Ciego de Avila.
In all there were seven home runs in the game.  The four by Ciego de Avila (Abdel Civil, Rusney Castillo, Yoelvis Fiss and Isaac Martinez as well as three from Granma (Yoenis Cespedes, Yordanis Samon and Carlos Benitez.).