Cuba: Raul Castro meets with US senators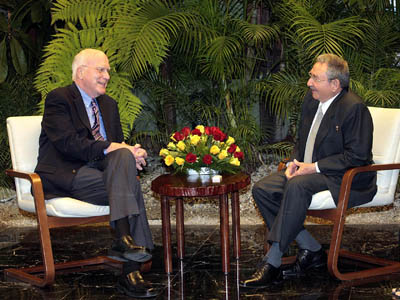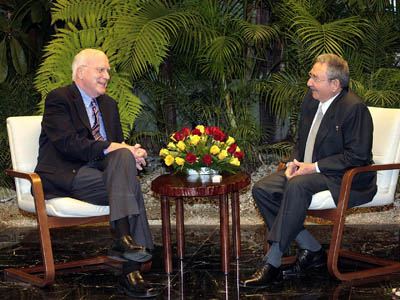 HAVANA TIMES — Cuban President Raul Castro met on Tuesday afternoon with a group of US senators and representatives visiting the island, among other things, to see US agent Alan Gross, imprisoned in Cuba since 2009, reported DPA news.
The delegation of five senators and two representatives is led by Sen. Patrick Leahy, D-Vermont, whose photograph with Castro ran Wednesday in Granma newspaper online.
The Cuban president and the US legislators "discussed matters of interest to both countries", stated the Cuban TV news without going into any details.
The legislators are expected to pay a visit to Gross before leaving the island on Wedenesday.
Gross, 63, worked for a Development Alternatives Inc. covert "democracy building" project for USAID. He was sentenced in 2011 to 15 years in prison on charges of violating the Cuban state security.
The delegation includes representative Chris Van Hollen, who represents Gross's district in Maryland.
Havana has tried to negotiate the release of Gross in a possible trade for the five Cuban agents imprisoned in the United States since 1998 on charges of espionage. On the island the Cuban Five are promoted as heroes for their mission to stymie terrorist attacks against Cuba from Miami-based exile groups.
Washington has thus far refused to link the two cases, preferring to insist that Cuba must release Gross unilaterally.
The overall goal of the congressional visit appears to be seeking out a path to improved US-Cuba relations, marked by over a half century of hostility.
The Gross and Cuban Five cases are the high profile topics but laying the groundwork that could lead to reestablishing diplomatic relations and bilateral trade is the far greater challenge to the Obama and Castro administrations.
"Every one of us has an interest in Cuba," Leahy told the foreign press upon his arrival to Havana on Monday. "We all want to see relations improve and both sides take steps in that direction," he added.
Since the early 1960s, the United States maintains an economic and financial embargo on Cuba seeking to bring down the Castro government through hardship. It also forbids ordinary US citizens from traveling to Cuba without a special US Treasury Dept. license.
The embargo, which includes third country sanctions for doing business with Cuba, is rejected by almost every country in the world, exemplified by last year's 188-3 vote in the United Nations.