Cuba Rejects US Pressure to Make Internal Changes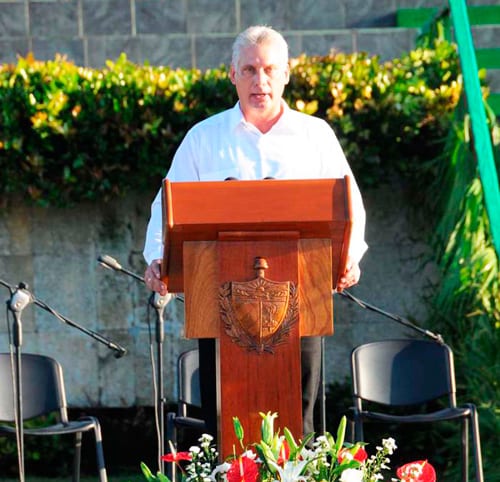 HAVANA TIMES – The Cuban government said today it will not make concessions in its internal affairs and rejected US demands that the island change its political and economic system, reported dpa news.
"Cuba will not make concessions inherent in its sovereignty and independence, will not negotiate its principles or accept conditions," said Cuban Vice President Miguel Diaz-Canel.
"The necessary changes in Cuba are decided by us," Díaz-Canel said during the ceremony in tribute to the 50th anniversary of the death of guerrilla Ernesto "Che" Guevara.
The speech is a response to statements by US President Donald Trump at the United Nations where he said that pressure on Cuba would only be lifted when it makes political and economic reforms.
Tensions between Cuba and the United States have increased in recent weeks as a result of alleged "acoustic attacks" suffered by US diplomatic personnel stationed on the island.
The majority of US officials in Havana were withdrawn and the Trump administration called for the departure of 15 Cuban diplomats who work at the Island's embassy in the United States.
"Some spokespersons and media are lending themselves to divulging strange accusations without any evidence, with the perverse purpose of discrediting the impeccable performance of Cuba," said Diaz-Canel, who stressed that the island is a safe destination for diplomats and tourists.
Although it has not been officially confirmed, it is likely that Díaz-Canel will be designated president when Raul Castro leaves office in February 2018.
"Che's colossal example endures and multiplies day by day," Díaz-Canel told thousands of people during the closing ceremony of the central event in Cuba to commemorate Che's death.
The event, held in the central city of Santa Clara, about 300 kilometers east of Havana, was presided over by Cuban President Raul Castro, who made no declarations and ceded the leading role to his first vice president.
In Santa Clara is the mausoleum that keeps the remains of Guevara that were transferred in 1997 to the island from Bolivia after a decades' long search.