Cuba Reports as TS Ernesto Moves West
by Circles Robinson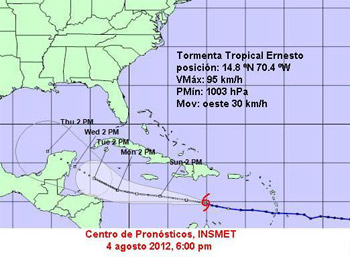 HAVANA TIMES — The Cuban Weather Service (INSMET) just issued its latest report on Tropical Storm Ernesto as it approaches the central Caribbean. The projection cone is still suggesting a possible landing near Cozumel, Mexico by mid week.
Ernesto is currently packing 60 mph winds and the National Hurricane Center (NHC) in Miami expects that it will reach 75 mph hurricane force by Sunday or Monday.
At 6:00 p.m. EDT, the eye of the storm was located by INSMET at 475 miles southeast of Kingston, Jamaica, with a movement west of 18 mph.
The central pressure was registered at 1003 millibars.
A tropical storm warning is in effect for all of Jamaica.
INSMET forecasts that Ernesto will continue on its same track during the next 24 to 48 hours, dropping in its movement speed.  It notes that the storm could gain in organization and intensity becoming a hurricane in the seas south of Jamaica on Sunday afternoon.
The next report from INSMET on Tropical Storm Ernesto is due at midnight on Saturday.