Cuba Reports on Forming of Tropical Storm Danny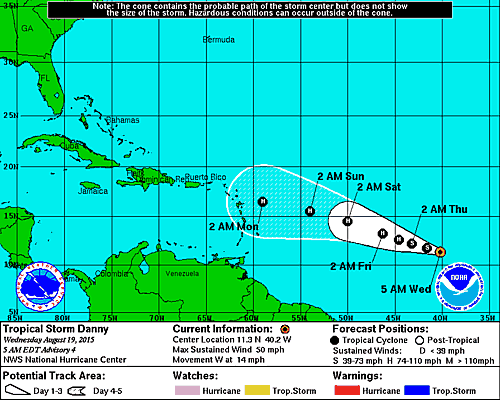 HAVANA TIMES — Tropical Storm Danny formed Tuesday in the Atlantic Ocean, the fourth storm of the thus far rather calm hurricane season, notes Jose Rubiera, Cuba's leading weather expert in Granma daily.
According to the National Hurricane Center in Miami, the storm, now packing 50 mph winds, will reach hurricane status, with at least 74 mph maximum sustained winds by sometime Thursday as it moves towards the eastern Caribbean.
If the projection holds, Danny will be the first hurricane of the 2015 season, that runs from June 1 to November 30.
No coastal watches or warnings are in effect at this time but the Caribbean island nations, including Cuba, will be closely monitoring the advance of the storm. Projections show Danny, currently half way between Africa and the Lesser Antilles and making it to the Caribbean by sometime next Monday.