Cuba Reports on Tropical Storm Dorian
By Circles Robinson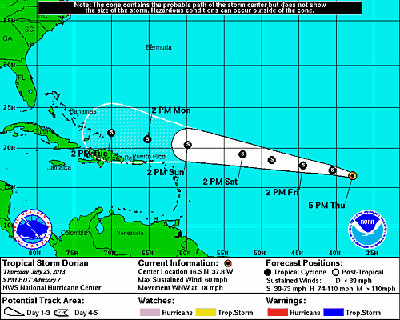 HAVANA TIMES — Tropical Storm Dorian is a long ways from the Caribbean but Cuban weather experts (INSMET) are tracking it as it moves through the central Atlantic.
The storm currently packs 95 kph (60 mph) winds and is moving northwest at 30 kph (19 mph).
The initial projection model from the National Hurricane Center (NHC) shows the storm reaching the far northeastern Caribbean by Sunday and possibly having a minor influence over northeastern Cuba by the middle of next week, although it is still too early to tell.
At six o'clock (ET) Thursday evening, INSMET pegged the center of TS Dorian at 16.6 degrees north latitude and 38.1 degrees west longitude; in the central Atlantic, and located about 2520 kilometers east of Antigua and Barbuda, in the northern group of the Lesser Antilles arc.
A new advisory on Dorian is expected at 6:00 p.m. on Friday.