Cuba Rolls Past Taiwan 9-1
By Circles Robinson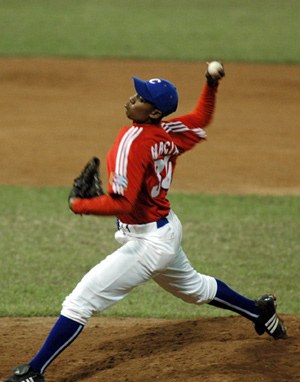 HAVANA TIMES, July 4 — Cuba battered Taiwan's pitching on Saturday and is now the only undefeated team (3-0) in the Port Cities Baseball Tournament taking place in Rotterdam, Holland.
Freddy Asiel Alvarez, one of the stars of the Cuban Baseball League playoffs this year, pitched six innings of three-hit, one-run ball to post the win. He struck out two and walked one before being relieved by Yadiel Pedroso who was perfect over two innings, striking out three, and Vladimir Garcia, who gave up one hit before retiring the side in the final inning.
The Cubans pounded out 16 hits including homers from outfielder Yoelvis Fiss and first baseman Ariel Borrero. Fiss had three his in five at-bats and drove in three runs. DH Rolando Meriño drove in two runs and second basebamn Rafael Valdez scored twice in the rout.
Taiwan's lone run was driven in by DH Kuo-Min Lin in the fifth inning. It represented the only run allowed by Cuba's pitching staff in three games after shutouts of 1-0 over Holland and 8-0 against Japan.
On Sunday, Cuba plays Holland in a rematch of game one. Game time is 7:30 a.m. EST. The Dutch squad is playing Saturday afternoon (EST) against Japan in a duel of two teams without a victory.
To see the box score of the Cuba-Taiwan game click on: http://www.baseballdecuba.com/RotterdamGames2009.asp?id=768
For an in-depth report on the Cuban team after left-handed star pitcher Aroldis Chapman abandoned the squad in search of a US Major League contract, click on:
http://www.baseballdecuba.com/RotterdamnewsContainer2009.asp?id=1677