Cuba Rolls, Round 2 Rivals Undetermined
By Circles Robinson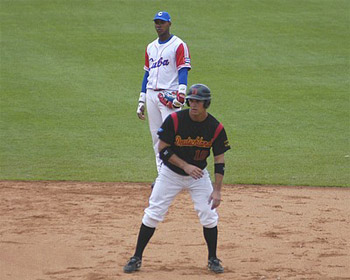 HAVANA TIMES, Oct. 9 — Cuba won its sixth straight IBAF Baseball World Cup game on Saturday 8-2 over surprisingly feisty Germany, which led for first third of the game.
Cuba is sitting comfortably atop Group B of the tournament while several other teams are still battling for chance to continue on among the final eight teams.
Outfielder Rusney Castillo continued to be a keystone of Cuba's offense, batting three hits on Saturday. Frederich Cepeda, Alfredo Despaigne, Yulieski Gourriel, Jose Dariel Abreu and Arriel Pestano had two hits each. Abreu homered for Cuba.
Cuba's starting pitcher Miguel Alfredo Gonzalez allowed two runs on three hits over three innings including a two-run homer by Donald Lutz in the first inning. Dalier Hinojosa came on to pitch four scoreless innings in relief allowing two hits.  Norberto Gonzalez finished the job with two scoreless frames.
In its final first round game Cuba (6-0) plays Nicaragua (1-5) in a meaningless game on Sunday. Meanwhile several other squads are in a must win situation to qualify for Round Two.
Standings:
Group 1: Panama 5-0, Canada 5-1,The Netherlands 5-1, USA 3-2, Puerto Rico 3-3, Japan 1-5, Chinese Taipei 0-5 and Greece 0-5.
Group 2: Cuba 6-0, Venezuela 4-2, South Korea 4-2, Australia 3-3, Dominican Republic 3-3, Italy 3-3, Nicaragua 1-5 and Germany 0-6.
International Baseball Federation World Cup News
Panama City, Panama – Rain added some drama to the scene at the 2011 IBAF Baseball World Cup, as two games were rained out on Saturday, including the highly anticipated clash between the USA and Panama, and others got delayed. On the second to last game day of the first round, just four of eight tickets for the second round are taken. In Group 1 Puerto Rico shut out Japan to stay alive. Canada won an extra inning thriller against the Netherlands, which ended their undefeated streak.
In Group 2 Cuba moved to 6-0 with a win over Germany, which wasn't as easy as expected, the situation behind them in the standings is getting tense. Australia continued its recent surge with a five-inning blowout over Venezuela, which now has to fear the possibility of not moving on to the second round. Also the Dominican Republic and Korea won on Saturday to make statements towards advancing.
Saturday's Results
Group 1
Netherlands 4 – Canada 5
In a thrilling duel between two of the top teams in Group 1, Canada prevailed 5-4 in 11 innings at Rod Carew Stadium, Panama City to hand the Netherlands its first loss of the 2011 IBAF Baseball World Cup. Both teams are now 5-1 with one game to play in the first round. In a back and forth battle an RBI single by Emerson Frostad in the 11th inning decided the outcome with the IBAF Extra Inning Tie Breaker Rule in effect.
Greece – Chinese Taipei postponed
The Group 1 matchup between the winless teams from Chinese Taipei and Greece in Aguadulce, Panama was suspended due to rain in the third inning with the Asian team leading 7-0. A make-up date hasn't been announced yet. Greece will face Japan on Sunday. Chinese Taipei takes on Puerto Rico. Both games will be played in Aguadulce.
Panama – USA postponed
The duel between Team USA and Panama, which was scheduled for Saturday evening at Rod Carew Stadium in Panama City, was postponed due to rain after officials and teams waited nearly two hours. The game is scheduled to be made up on Monday at 2pm local time. With Puerto Rico winning on Saturday against Japan, the defending champion USA needs to win both of its remaining games in the first round to advance.
Puerto Rico 6 – Japan 0
Puerto Rico moved to 3-3 after defeating Japan at Remon Cantera Stadium. The final score of 6-0 was the product of solid play from Puerto Rico, outclassing the Japanese. Japan could only manage Five hits with two errors while the classy Caribbeans collected 11 hits and built the win in the first half of the game. Cesar Crespo had his second homerun in the 2011 Baseball World Cup for Puerto Rico.
Group 2
Australia 15 – Venezuela 0
It took only five innings for Australia to win (15-0) against Venezuela, a game whose first pitch was delayed three hours because of rain. The Aussies impressed with a 13 hit- 3 home run offense and their starter Chris Oxspring was helped by four double plays in each of the first four Venezuelan offensive innings.
Korea 4 – Italy 0
Thanks to another strong pitching performance by starter Hyon Taek Oh Korea shut out Italy 4-0 Friday evening in Chitre. The game didn't start until 9pm due to rain and the late start of the Australia-Venezuela matchup, but Oh found his rhythm quickly and allowed just five hits in 7 2/3 innings, while striking out 14. The Olympic champion got in front with a solo homerun by Jae Hoon Choi in the fifth. Three runs in eighth, two on a two-run single by Choi, provided some much needed insurance against a strong Italian team.
Dominican Republic 16 – Nicaragua 1
The Dominican Republic crushed Nicaragua 16-1 in six innings on Friday evening to improve to 3-3 and to stay alive in Group 2 at the IBAF Baseball World Cup. They scored in five of the six innings with a six-run rally in the fourth highlighting the contest. Dionys Cesar and Alexis Gomez combined for seven hits, four runs and six RBI. Willy Lebron Perez gave up just two hits in five strong innings for the win. Dwight Britton scored the lone run for Nicaragua, which dropped to 1-5.
Outlook
With the exception of the two rained out games from Saturday, the first round at the 2011 IBAF Baseball World Cup will be completed on Sunday. In Group 1 Panama, the Netherlands and Canada are advancing into the second. But due to the format of another round robin, their remaining games are very important. USA and Puerto Rico are battling for the fourth spot. On Sunday USA has to take on Canada in a must-win game. Puerto Rico hopes to down Chinese Taipei to raise the pressure for the defending champion. Also the Dutch team is playing against the hosts and Greece faces Japan.
In Group 2 the race for the second-round spots is getting dramatic. Cuba is the lone team, which can plan for the second round. Nicaragua and Germany are out. The rest still have a chance to make it. In the afternoon Australia hopes to extend its winning streak to four games against Germany and Venezuela tries to bounce back from a horrible loss in a matchup with Italy. In the evening the Dominican Republic and Korea will face each other in another key matchup. Cuba closes out the first round against Nicaragua.
Schedule, Sunday, October 9
14h00 USA – Canada
14h00 Greece – Japan
14h00 Australia – Germany
14h00 Venezuela – Italy
19h30 Panama – Netherlands
19h30 Chinese Taipei – Puerto Rico
19h30 Dominican Republic – Korea
19h30 Nicaragua – Cuba
(local times Panama)