Cuba Sends Medical Team to Nepal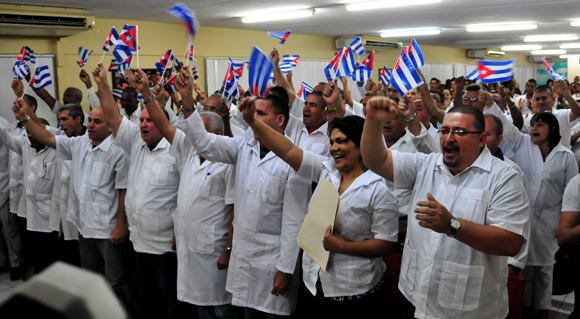 HAVANA TIMES — Cuba sent a group of 49 health workers including 22 doctors on Friday to Nepal after the devastating earthquake last April 25, reported dpa news.
The brigade from the Henry Reeve humanitarian aid contingent, was sent off before dawn by Health Minister Roberto Morales and other senior officials of the Cuban government.
The Cubans took a field hospital with them that includes, among other services, a surgical unit and intensive care unit, said the official Cubadebate website.
For several decades Cuba has carried out for humanitarian aid missions especially in countries in Africa and Latin America.
The Caribbean island was in the forefront starting last year in the international fight against Ebola, epidemic that killed thousands of people in West Africa. More than 250 Cuban medical aid workers worked for months in Guinea, Sierra Leone and Liberia, the three countries most affected by the outbreak.
The devastating earthquake in Nepal on April 25 measured 7.8 on the Richter scale. More than 7,600 people died in the tragedy in the Himalayan region, according to latest estimates.
The UN estimates that 256,000 houses were damaged and a quarter of the 31 million inhabitants of the country were affected by the tragedy.