Cuba Spared as Hurricane Maria Moves North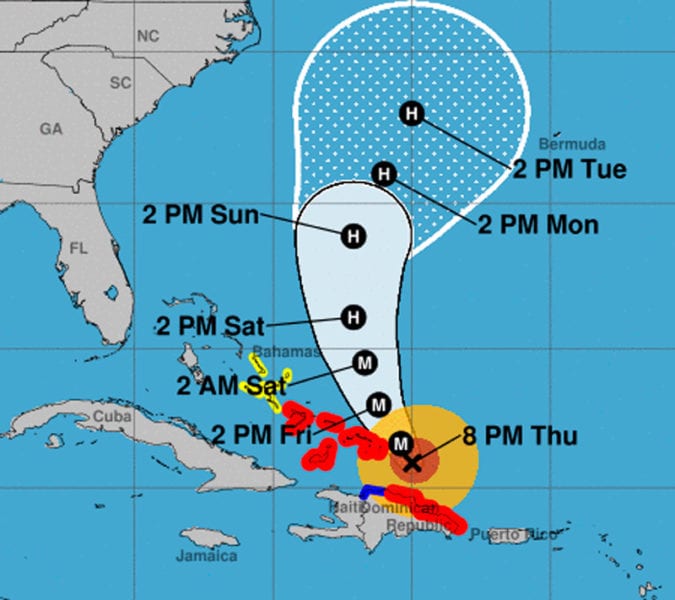 By Circles Robinson
HAVANA TIMES – Hurricane Maria moves slowly northwest approaching Grand Turk Island while moving away from the Dominican Republic. Full damage reports from the DR, Puerto Rico, the Virgin Islands, Dominica, Guadalupe and other affected islands are still forthcoming when conditions and communications permit and rescue efforts are completed.
The weather system, considered a major hurricane, now packs 125 mph (205 km/h) maximum sustained winds.  At 8:00 p.m. the center was located at 85 miles north-northeast of Puerto Plata, Dominican Republic and 80 miles east-southeast of Grand Turk Island.  Maria is moving at 9 mph on its northwest track.
A hurricane warning is in effect for the Turks and Caicos Islands and the Southeastern Bahamas, the next islands endangered by Maria. Likewise, a warning due to possible hurricane conditions, is still valid for the Dominican Republic from Cabo Engaño to Puerto Plata. A tropical storm watch is now in place for the Central Bahamas.
The National Hurricane Center (NHC) notes that on the forecast track, Maria's eye will continue to pass offshore of the northern coast of the Dominican Republic this evening, and then move near or just east of the Turks and Caicos Islands and southeastern Bahamas later tonight and on Friday.
Maria is currently a category 3 major hurricane on the Saffir-Simpson Hurricane Wind Scale.  Little change in strength is expected during the next couple of days.
The NHC notes that hurricane-force winds extend outward up to 70 miles (110 km) from the center, and tropical-storm-force winds extend outward up to 160 miles (260 km).
Cuba is not mentioned on any reports as being at risk from hurricane Maria.  Nonetheless a pre-warning went out on Monday for the northern coasts of Holguin and Guantanamo provinces for possible coastal flooding.