Cuba Squad Set for Rotterdam Tourney
Roger Machado will manage the strong Cuban team.
Peter C. Bjarkman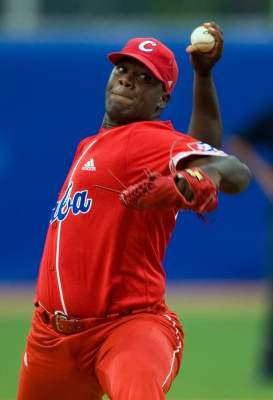 HAVANA TIMES, May 27 — Cuba's 22-man roster has now been announced for the first of four upcoming events that will mark the 2011 summer and fall international baseball calendar. Roger Machado will return as team manager for the Rotterdam World Port Tournament, where he earlier directed the Cuban gold-medal-winning squad at the last WPT edition in 2009.
Machado's Ciego de Avila ball club was one of the surprises of the just-concluded Golden Anniversary National Series, reaching the Cuban League finals for the first time in more than three decades of team history. Machado (a former national team backup catcher) will be assisted by bench coaches José Hernández (Ciego de Avila) and Jorge Gallardo (Pinar del Río), plus pitching coach Ronnie Aguiar (Villa Clara).
The Cuban squad will begin training sessions at Havana's Latin American Stadium this coming Monday, May 30, in preparation for the late-June and early-July Rotterdam tournament. Cuba's foes in Holland will include the always strong Dutch national team, plus national squads from Chinese Taipei, Curacao, and Germany.
The thirteenth edition of the World Port Tournament will kick off a busy international campaign that includes a pair of headline October events – the IBAF World Cup (Panama) and the Pan American Games baseball tournament (Mexico). Several headliners on Cuba's Rotterdam team are certain to figure in the mix when in comes to selecting a top-level Cuban roster for October's showcase IBAF tournaments.
Notable in this group are Pinar's slugging third baseman Donald Duarte (batting champion at last summer's Haalem Honkbal Week in Holland), veteran national team backup receiver Yulexis La Rosa (Villa Clara), flashy Las Tunas shortstop Alex Guerrero, and talented young Cienfuegos outfielder Yasel Puig.
Pitching is Team Cuba's strongpoint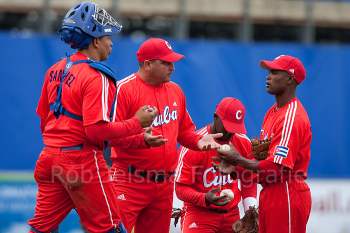 However, the most impressive on this Cuban squad is the pitching contingent that includes top national team stalwarts Yadier Pedroso (Habana Province), Dalier Hinojosa (Guantánamo), and Ismel Jiménez (Sancti Spíritus). Pedroso is a former Cuban League ERA champion, Hinojosa has already thrown two perfect games in international events, and Jimenez was one of the top hurlers at the 2008 Beijing Olympics. Also featured on the strong Cuban pitching staff are Pinar's Yosvani Torres (surprise hero of the just concluded Cuban post-season) and Cienfuegos reliever Duniel Ibarra (recent author of a new Cuban League single-season record for games saved).
The complete Cuban 22-man Rotterdam roster is as follows (with league team affiliations shown in parentheses):
Catchers (3): Yenier Bello (Sancti Spíritus), Osvaldo Arias (Cienfuegos), and Yulexis La Rosa (Villa Clara).
Infielders (7): William Saavedra (Pinar del Río), Yordanis Samón (Granma), Yolián Cerce (Guantánamo), Ramón Tamayo (Granma), Donald Duarte (Pinar del Río), Alexander Guerrero (Las Tunas), and Bárbaro Erisbel Arruebarruena (Cienfuegos).
Outfielders (4): Yoelvis Fiss (Ciego de Avila), Yasel Puig (Cienfuegos), Urmaris Guerra (Granma), and Rusney Castillo (Ciego de Avila)
Pitchers (8): Yadier Pedroso (Habana Province), Dalier Hinojosa (Guantánamo), Ismel Jiménez (Sancti Spíritus), Misael Siverio (Villa Clara), Yosvani Torres (Pinar del Río), Duniel Ibarra (Cienfuegos), Yadir Rabí (Ciego de Avila), and Cuban League 2011 top rookie Gerardo Concepción (Havana Industriales).
Cuba will debut in Rotterdam on June 24 versus Curacao at Neptunus Family Stadium on the outskirts of Rotterdam, Holland's largest city and main seaport. Complete tournament coverage will be found on www.BaseballdeCuba.com, with this author reporting directly from the scene with live play-by-play commentary , full game summaries and regular analytical columns.
—
Peter C. Bjarkman is author of A History of Cuban Baseball, 1864-2006 (McFarland, 2007) and is widely recognized as a leading authority on Cuban baseball, both past and present. He has reported on Cuban League action and the Cuban national team for www.BaseballdeCuba.com during the past four years and is currently completing a book on the history of the post-revolution Cuban national team.