Cuba to Drop Astronomical Car Prices by 10%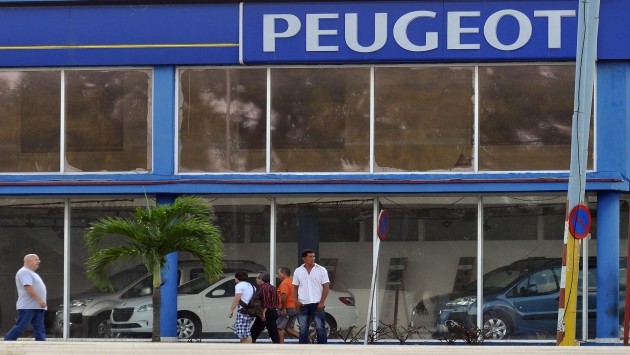 HAVANA TIMES – On February 6, the Cuban government announced new prices for its' monopoly sales of used cars, some of the most expensive on the planet and many in questionable condition.
Several government officials applauded the "good news" of a 10% discount on the car sales.
With public transportation in a serious crisis the desire to own a car remains a pipedream for over 99% of Cuban manual workers and professionals, despite the discount.
"In the absence of an updated product catalog, with the models and prices of the vehicles that the Cuban government will now sell, the Cuban Directory offers its readers (see below) the list of cars/prices published by the government six years ago", and what the new prices would be with a 10% discount.
The government will sell the cars to its citizens in foreign currency only.
"According to the information offered by the ministers who appeared on the television program La Mesa Redonda, prices are similar as before, but with a 10% discount and will be sold only in foreign currencies," noted Cuban Directory, which said it will update the list as soon as the details on this process are made public.
The following is the old price list from the official government sales agency with estimated new prices with the discount

AGENCIA PEUGEOT PRECIOS DE VEHÍCULOS NUEVOS DISPONIBLES PARA LA VENTA
CAR CO. and MODEL
PRICE IN US Dollars
DISCOUNT 10%
PEUGEOT EXPERT TEPEE 2013
212940,00
191646,00
PEUGEOT 4008 2013
239250,00
215325,00
PANEL PEUGEOT PARTNER TEPEE 2013
145612,50
131051,25
PEUGEOT 206+ 2013
91113,00
82001,70
PEUGEOT 301 2013
108084,00
97275,60
PEUGEOT 301 2013
109684,00
98715,60
PEUGEOT 301 2013
109699,00
98729,10
PEUGEOT 5008 2013
232193,50
208974,15
PEUGEOT 508 2013
263185,50
236866,95
AGENCIA PEUGEOT: PRECIOS DE VEHÍCULOS DE USO DISPONIBLES PARA LA VENTA
GEELY CK T/A 2010
26550,00
23895,00
GEELY CK T/M 2009
25950,00
23355,00
GEELY FC 2009
37500,00
33750,00
GEELY MK 2009
30000,00
27000,00
HYUNDAI ACCENT T/A 2011
45000,00
40500,00
HYUNDAI ACCENT T/A 2009-2010
37500,00
33750,00
HYUNDAI ATOS 2009
21450,00
19305,00
HYUNDAI 110 T/A 2009
29250,00
26325,00
HYUNDAI 110 T/A 2009
31500,00
28350,00
HYUNDAI 110 T/M 2009
25000,00
22500,00
HYUNDAI 110 T/M 2009
28500,00
25650,00
KIA RIO 2011
42000,00
37800,00
SEAT ALTEA 2008
45000,00
40500,00
VW JETTA 2010
51000,00
45900,00
OTROS VEHÍCULOS DE USO A LA VENTA
MICROBUS HYUNDAI TQ12 2009-2010
110000,00
99000,00
JEEP HYUNDAI SANTA FE 2009-2010
90000,00
81000,00
JEEP SUZUKI JIMNY 2008
69195,00
62275,50
JEEP SUZUKI JIMNY 2008
30000,00
27000,00
AUDI A4 2000
45000,00
40500,00
BMW SMOD 1997
14457,00
13011,30
CITROEN C3 2008
46025,00
41422,50
CITROEN SAXO 2003
26431,65
23788,49
CHANA-ALSV ALSVANA 2010
31950,00
28755,00
DAIHATSU GRAND MOVE 2000
22000,00
19800,00
FIAT PUNTO 2008
28950,00
26055,00
FIAT UNO 2002
18000,00
16200,00
GEELY CK 2010
26149,95
23534,96
GEELY CK 2010
26150,10
23535,09
HYUNDAI ACCENT T/M 2007
35000,00
31500,00
HYUNDAI ACCENT T/A 2011
45000,00
40500,00
HYUNDAI ACCENT T/A 2009-2010
37500,00
33750,00
HYUNDAI ACCENT T/M 2011
45000,00
40500,00
HYUNDAI ATOS 2007-2009
21450,00
19305,00
HYUNDAI AZERA 2009
75000,00
67500,00
HYUNDAI GETZ 2009
32250,00
29025,00
HYUNDAI SONATA 2009-2010
60000,00
54000,00
KIA PICANTO 2011
38285,40
34456,86
KIA PICANTO 2011
40854,60
36769,14
KIA PICANTO 2011
41486,40
37337,76
KIA PICANTO 2011
37189,80
33470,82
KIA PICANTO 2011
37782,00
34003,80
KIA PICANTO 2011
35000,00
31500,00
KIA PICANTO 2011
42000,00
37800,00
KIA PICANTO 2008
28000,00
25200,00
KIA PICANTO 2009
35000,00
31500,00
MERCEDES BENZ 2006
60000,00
54000,00
MITSUBISHI LANCER 1997
20000,00
18000,00
PEUGEOT 406 1999
28000,00
25200,00
PEUGEOT 106 2003
16222,95
14600,66
PEUGEOT 206 2008
85227,60
76704,84
PEUGEOT 206 2004
30000,00
27000,00
PEUGEOT 407 2004
30000,00
27000,00
PEUGEOT PARTNER 2008
25600,00
23040,00
RENAULT CLIO 2005
25000,00
22500,00
RENAULT SM3 2008
46116,30
41504,67
RENAULT SM3 2008
30000,00
27000,00
RENAULT SM3 2008
31500,00
28350,00
RENAULT SM7 2008
90000,00
81000,00
SEAT ALTEA 2008
45000,00
40500,00
SEAT CORDOVA 2008
31500,00
28350,00
TOYOTA COROLA 2006
39224,80
35302,32
TOYOTA YARIS 2003
25000,00
22500,00
TOYOTA YARIS 2002
25000,00
22500,00
VW JETTA 2010
51000,00
45900,00
VW PASSAT 2008
54000,00
48600,00
VW PASSAT 2010
67500,00
60750,00
VW POLO 2007
25000,00
22500,00
VW POLO 2007
25000,00
22500,00