Cuba to Host Cliff Diving World Series on May 10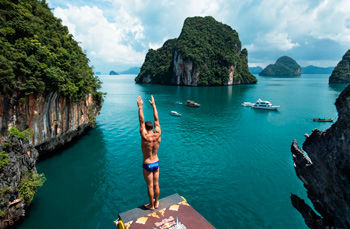 HAVANA TIMES — The Cliff Diving World Series will be held for the first time in Cuba this coming May 10 at the emblematic Morro Fortress, from which the world's top 14 cliff divers will jump into the sea.
According to Cubadebate, the competitors, all men, will jump from a platform placed at 27 meters high and mounted on the cliff at the entrance of Havana Bay. The steel and aluminum structure will stand seven meters high and eight out over the sea to avoid risks.
Among the athletes coming is the Colombian Orlando Duque, first monarch of the circuit in 2009 and world champion in Barcelona 2013 ; Russian Artem Silchenko number one ranking and the winner of the previous World Series event; and Britain's Gary Hunt, winner of the event three times (2010, 2011 and 2012).
Cuba will not have representatives in the event, due to the short time of preparation for the two national candidates.
Cliff diving is a risky mode where diving is performed (five for men from 27 meters high and three for women from 20 meters), after being suspended in the air for three seconds and hitting water at nearly 100 miles per hour.