Cuba to Issue Bonds to Finance Budget Deficit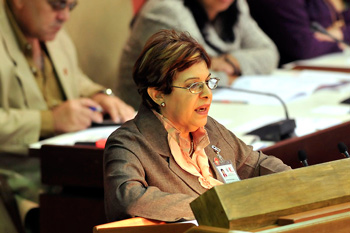 HAVANA TIMES — Cuba will begin to issue sovereign bonds to pay for the debt generated by the budget deficit, said Finance Minister Lina Pedraza on Saturday.
The nation will finance up to 70 percent of the deficit, which in 2014 is expected to reach 4.7 percent of the Gross National Product (GNP), Pedraza told the National Assembly, reported Prensa Latina.
The remaining debt will be covered with the issuance of fresh currency by the Central Bank, she said, thus controlling inflation "more efficiently." The deficit is expected to grow faster than the GNP, she pointed out. This year, the GNP grew less than expected, by 2.7 percent instead of the hoped-for 3.6 percent.
The bonds will bear an annual interest of 2.5 percent a year and will expire in 20 years. Pedraza did not say when they will be issued.
A sovereign bond is defined by Investopedia as "a debt security issued by a national government within a given country and denominated in a foreign currency. The foreign currency used will most likely be a hard currency, and may represent significantly more risk to the bondholder."
"The government of a country with an unstable economy will tend to denominate its bonds in the currency of a country with a stable economy," Investopedia explains. "Because of default risk, sovereign bonds tend to be offered at a discount. Brady bonds, which are issued by governments in developing countries, are a popular example of sovereign debt securities."
The GNP is expected to rise about 2.2 percent next year, a growth restrained by the declining price of sugar and nickel, two important Cuban export products, and the rising prices of food on the world market, said Adel Yzquierdo, Minister of the Economy.
Cuba spent more than 1.7 billion dollars in food imports in 2013, a heavy burden on the nation's finances. Yzquierdo blamed an insufficient production of milk, rice and beans for the added expenditure in imports.
The national budget for 2014, approved Saturday by the Assembly, assigns 54 percent of the funds to social expenditures, such as education, health care and social security.
Also on Saturday, Vice President Marino Murillo Jorge told the National Assembly that monetary unification will make the Cuban peso (CUP) the only currency in Cuba. The convertible peso (CUC) will be phased out.
At present, the CUP is traded at 25 per 1 dollar, the CUC at 1 per 1 dollar.
Murillo did not give a timetable for the phase-out and did not say what the rate of exchange might be.