Cuba to Lose Oil "Freebie", repeats Capriles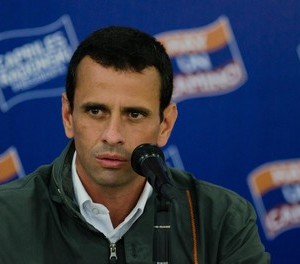 HAVANA TIMES (dpa) — Venezuelan presidential candidate Henrique Capriles said today that if elected on April 14th he would stop "giving away" oil to Cuba, alleging that this is what the current government does.
"We won't give any more oil to Mr. Castro, it's as simple as that," said Capriles at a press conference.
Capriles said that after defeating the "candidate of the Castro brothers" (acting President Nicolas Maduro), he would end the controversial agreements with Cuba that allow the island to buy Venezuelan oil on preferential terms.
"That's what I've said, and I repeat, we're going to beat the other candidate. His mentor (Maduro's), his boss is Raul Castro, and everyday resources to finance the government of Mr. Castro leave here. We're not going to continue funding them," said the candidate of the opposition alliance "Mesa de la Unidad Democratica" (MUD).
Capriles, who lost the presidential elections on October 7 to the late President Hugo Chavez (55%-44%), said: "Nicolas Maduro is the guarantee for the Castro brothers. I'm the guarantee for Venezuelans."
The opposition candidate promised that his government would use oil revenues to increase the minimum wage by 40 percent, create a program of "Zero Hunger," and encourage the creation of new jobs in the private sector and increase pensions for retirees.