Cuba to Open Solar Power Plant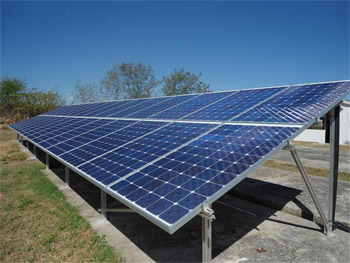 HAVANA TIMES — This year Cuba will have its first solar photovoltaic power plant, said Mario Alberto Arrastia, a specialist with the Cubaenergia company, speaking to the Juventud Rebelde newspaper on Wednesday.
In an attempt to break with the traditional fossil fuels based approach, the plant will produce 1,500 megawatts (MW) of energy, to which another 10 plants will be added in 2013, commented Arrastia, who is also a member of the Cubasolar group.
In addition, hopes are that hydropower will produce 100 MW in the coming years, while in 2013 the construction of a 50 MW wind farm will begin in the eastern province of Las Tunas, which will add to the three existing facilities in the country.
Similarly, by 2020 the installation of bio-thermoelectric generating units in sugar refineries is expected to prevent the emission of three million tons of carbon dioxide into the atmosphere.
According to reports, Cuba intends to integrate renewable energy technologies and the passive use of solar power into all buildings that permit this, although this will require the upgrading of the electrical grid and the use of technology to store this type of energy, said Arrastia.