Cuba to Remain Off-Bounds for US Embassy Staff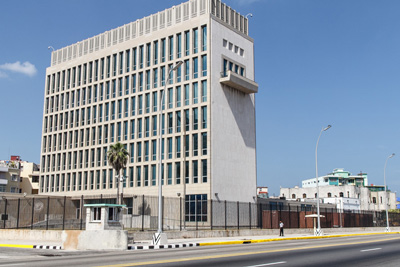 HAVANA TIMES – The United States has decided to maintain the personnel cut at its embassy in Cuba, carried out in September over alleged attacks on the health of its diplomats, still under investigation without having yet found out the cause, reported dpa.
"The embassy will continue to operate with the minimum personnel necessary to carry out the essential diplomatic and consular functions," the State Department announced today.
In addition, from now on, relatives will not be able to live in Cuba with the few diplomats stationed there.
The result has been that if a Cuban seeks a visa of any kind for the United States, they have to go for their interview in person in Colombia or Mexico, a costly and complicated process.
"The health, safety and well-being of US government personnel and their families are a major concern for Secretary (Rex) Tillerson and were a key factor in the decision to reduce the number of personnel assigned to Havana," said the State Department.
The United States says that since November 2016, 24 diplomats who worked in Cuba and relatives suffered alterations in their health due to attacks of unknown origin that have caused symptoms such as hearing loss, dizziness, buzzing, headaches, fatigue, cognitive problems and sleep difficulties.
At the end of September Tillerson ordered home the majority of the staff at the US embassy in Havana and shortly after he expelled 15 Cuban diplomats from Washington.
The issue has fueled the tension in bilateral relations that the Democrat Barack Obama and Raul Castro resumed in 2015 after more than 50 years of rupture.
Relations already suffered when President Donald Trump announced changes in US policy towards Cuba in June last year, which included a hardening of the embargo and putting greater limitations on the trips of US citizens to the island.
Cuba has not questioned the health problems that the US personnel have suffered, but repeatedly assured that they do not respond to any attack. In early November, foreign minister Bruno Rodriguez accused Washington of lying to damage relations between the two countries.