Cuba: Tropical Storm Bertha Forms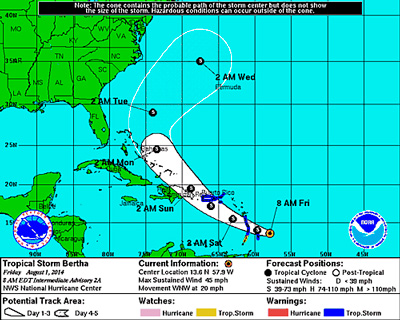 HAVANA TIMES — Tropical Storm Bertha entered the radar early Friday as it churns in the Atlantic some 240 kilometers (150 miles) east of Barbados reported the Cuban Weather Service (INSMET) at 6:00 a.m. on Friday. At this point it is not expected to pose a danger to Cuba.
The initial projection cone for the storm from the National Hurricane Center in Miami shows it taking a northwest path that could bring a possible landing in several eastern Caribbean islands and then Puerto Rico or the Dominican Republic by late Saturday or early Sunday.
The NHC has issued a Tropical Storm Warning for Barbardos, St. Lucia, Dominica, Puerto Rico, Vieques, Culebra, US. Virgin Islands and the British Virgin Islands as well as a Tropical Storm Watch for St. Vincent and the Grenadines.
A tropical storm warning means that tropical storm conditions are expected somewhere within the warning area…in this case within the next 24 hours, notes the NHC.
A tropical storm watch means that tropical storm conditions are possible within the watch area…generally within 48 hours.
At the time of the INSMET report, Bertha was packing maximum sustained winds of 75 kilometers per hour (45 mph). It is moving west-northwest at a speed of 32 kilometers per hour (20 mph).