TS Ernesto Strengthens, Jamaica on Alert
By Circles Robinson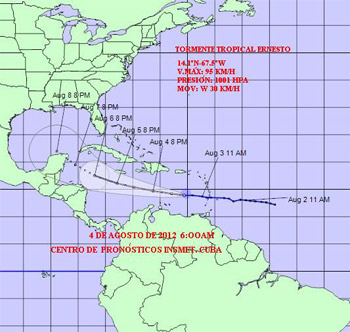 HAVANA TIMES — Tropical Storm Ernesto strengthened by early Saturday and now packs 60 mph winds as it heads west towards a possible landing on the Mexican Yucatan by the  middle of next week.
The National Hurricane Center (NHC) in Miami predicts the weather system will become a hurricane by Sunday and a tropical storm alert is already in effect for Jamaica.
While the projection cones of the Cuban Weather Service (INSMET) do not show a direct influence over Cuba in the coming days, the island's civil defense authorities are no doubt watching the storm's development closely.
At 6:00 a.m. Cuban time (EDT) on Saturday, INSMET located the center of the storm at just over 300 miles south-southwest of San Juan, Puerto Rico and some 670 miles east-southeast of Kingston, Jamaica.
Ernesto has a central pressure of 1001 millibars and is moving west at a hefty speed of 18 mph.
The Cuban weather experts believe the storm will continue on a westerly course during the next 24-48 hours while gaining in intensity.
The next report from INSMET will be forthcoming at 6:00 p.m. EDT.