US Increases Tourist Visas for Cubans in 2013
By Circles Robinson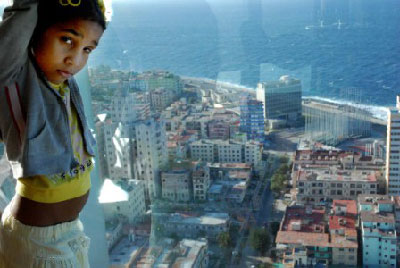 HAVANA TIMES —  After Cuba's immigration reforms went into effect in January, making it easier for Cubans to leave the country for short term visits abroad, longer stays, or to emigrate, the US Interests Section (USIS) in Havana reports a huge increase in tourist visas approved.
In the first six months of 2012 the USIS issued 9,369 visas but in 2013 the figure for the same period soared to 16,767.
To request a tourist visa requires a non-refundable fee of US $160.  USIS says it receives an average of 500 requests per day.
The Cuban government's eliminating the notorious "white card" exit visa and increasing to 24 months the time nationals can legally stay abroad, has produced a wave of citizens requesting visas.
Cubans that reach US territory can now solicit permanent residency (green card) there under the Cuban Adjustment Act and still keep their residency in Cuba, something that wasn't possible before the reforms.
The US Interests Section also said its commitment to issue 20,000 immigrant visas each year was surpassed last year with more than 29,000 issued.
The statement from the USIS comes a day after Cuba's official daily, Granma, ran an article that, without any details, accuses USIS employees of taking bribes for visa approval. The USIS said it takes such charges seriously and requested they be notified immediately.
The following is the USIS notice posted on their website on Saturday, June 29, 2013.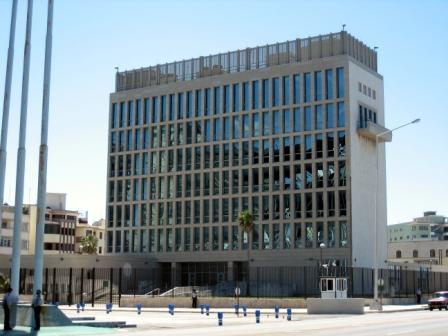 Clarification of the US visa application process in Havana 
The U.S. Interests Section in Havana would like to clarify several points concerning the process for obtaining a visa to temporarily visit the United States, as well as information regarding visas issued to immigrate to the U.S., specifically to counter some misunderstandings.
In an effort to improve customer service for tourist visa applicants, the U.S. Interests Section has increased the number of appointments for interviews from 120-150/day a year ago to about 500/day today.  This has substantially reduced the wait for an appointment, and we are working to reduce that wait time even further by the end of 2013.
Comparing the first six months of 2012 with the first six months of 2013, the number of visas issued to Cubans to travel to the U.S. temporarily rose 79% from 9,369 to 16,767.
For many years, most Cubans travelling to the U.S. have gone as immigrants.  Under the 1994 U.S.-Cuba Migration Accords, the United States is committed to issuing a minimum of 20,000 migration documents annually.  Last year the Interests Section authorized over 29,000 Cubans to immigrate legally to the United States.
To qualify for a tourist visa, applicants must demonstrate strong ties to Cuba that will compel them to return after a short visit to the United States.  That is very difficult for many Cuban applicants.
The fee for a non-immigrant visa interview is 160 USD or CUC.  This fee covers the cost of conducting the interview, including employee salaries and operational expenses.  USINT does not operate for profit.  This fee is the same for a visa interview at every U.S. embassy or consulate around the world.
When we have to refuse a visa, we advise the applicant not to re-apply unless his/her circumstances change significantly – typically, at least a year later.
Any applicant who would consider traveling to Mexico to walk across the border to the United States or rafting to the United States is not a tourist, and therefore is not eligible for a tourist visa under U.S. law. 
The United States supports safe, legal, and orderly migration, and encourages intending immigrants to consider the legal options that may be available to them instead of risking a dangerous and illegal trip via raft or other route.    
USINT takes allegations of corruption very seriously, and encourages anyone with information regarding employee malfeasance to immediately contact our Regional Security Officer at 839-4100.