Cuba, USA in Human Rights Watch Report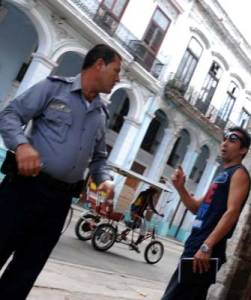 By Circles Robinson
HAVANA TIMES, Jan. 24 — Human Rights Watch has issued its World Report 2011 discussing what its researchers consider the status of human rights in countries around the world.
Cuba and the United States, whose governments routinely criticize each other's human rights record, are two of the countries where the types of violations are detailed.
The section of the report on Cuba can be found on page 233 and the one on the United States starts on 609.
The introduction to the HRW report on Cuba states:
"Cuba remains the only country in Latin America that represses virtually all forms of political dissent. In 2010 the government continued to enforce political conformity using criminal prosecutions, beatings, harassment, denial of employment, and travel restrictions.
"Since inheriting control of the government from his brother Fidel Castro in 2006, Raul Castro has kept Cuba's repressive legal and institutional structures firmly in place. While Cuban law includes broad statements affirming fundamental rights, it also grants officials extraordinary authority to penalize individuals who try to exercise them.
"Following the death of a political prisoner on hunger strike in February 2010 and the subsequent hunger strike of a prominent dissident, Cuba's government has released more than 40 political prisoners, forcing most into exile. Many more journalists, human rights defenders, and dissidents remain behind bars, while the government increasingly relies on short-term, arbitrary detentions to punish its critics."
The introduction on the human rights situation in the USA states:
"US citizens enjoy a broad range of civil liberties and have recourse to a strong system of independent federal and state courts, but continuing failures—notably in the criminal justice and immigration systems and in counterterrorism law and policy—mar its human rights record. Although the Obama administration has pledged to address many of these concerns, progress has been slow; in some areas it has been nonexistent.
"There were positive developments in 2010, including a Supreme Court ruling abolishing the sentencing of children to life in prison without parole for non homicide crimes; a new law that promises to reduce racial disparities in the sentencing of cocaine offenders; and a healthcare law promising health insurance to an estimated 32 million uninsured Americans.
"All of these topics were examined in November 2010 during the first-ever Universal Periodic Review of the US at the United Nations Human Rights Council, part of a larger process in which the Council examines the human rights records of all 192 UN member states."
To read the full HRW World Report 2011 click here.