Cuba Winless, Venezuela Undefeated in Caribbean Series Baseball
Daniel Malas (baseballdecuba.com)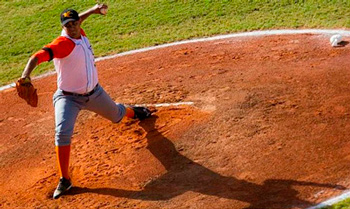 HAVANA TIMES — The Dominican Republic won its first victory in this Caribbean Series 2014, easily disposing of Cuba's embarrassing team of Villa Clara 9-2, while tournament host Venezuela got by Mexico 6-3 leaving them as the only undefeated squad in the competition.
Cuba's options to make the semifinals are now slim.  The only hope is by defeating Puerto Rico on Tuesday and Puerto Rico losing to Venezuela on Wednesday. This would allow Villa Clara to sneak in with the fourth ticket to the semifinals. The possibility exists, but is no longer only in the Cubans' hands.
DR 9- CUBA 2
In a one-sided game from the start, the Dominican Republic's Licey Tigers continued unmasking the myth of Cuban baseball with excellent pitching work of Jon Leicester and a three-run homer from Julio Lugo as highlights.
The Dominicans scored in each of the first four innings to build a 6-0 lead and Lugo's shot in the eighth put the icing on the cake.
Starter Leicester worked 7 innings allowing only three hits and a walk and striking out two in getting the win.  He used only 78 pitchers (51 strikes).
On the mound for Cuba, starter Yasmani Hernández had control problems and lasted only 1.1 innings. The poor defense didn't help.
Danel Castro had two of Villa Clara's five hits and the other three came from  Ramon Lunar, who drove in Cuba's only two runs in the ninth.
Manager Ramón Moré made changes, but continued offering a lineup with holes, and maintained what appears as an absurd, obstinate position of having to Ariel Pestano on the bench as a substitute when Yulexis La Rosa, who is a good catcher, will never be even half of its predecessor. The certainty that Victor Mesa is leading the team says a lot, including his presence on the bench, in uniform and everything from Villa Clara's second game on.
Cuba is playing the most embarrassingly poor showing in its history of international events, highlighting that amateur merits belong only to that level and that the self-ostracism imposed for 54 years, has proved even more harmful than expected.
VEN 6 -MEX 3
The temperamental Carlos Zambrano pitched well and had the offensive support needed to beat the defending champion Mexico before 15,449 fans, 6 by 3, with Ramon Hernandez firing a two-run homer.
Venezuela began impetuous and by the top of the second inning had a 4-0 lead, which would have been enough to get the win, without the coup de grace homer by Hernandez in the eighth. The other offensive star of the hosts was Ezequiel Carrera, who had two hits in four trips to the plate, scored a run, doubled, stole two bases and drove in a run.
Zambrano stayed in for 5.1 innings to get the win allowing only 2 hits, 3 walks and 3 earned runs he was rescued by Jean Machi, who picked up his second tournament save.
Mexico's starter Nathan Reed lasted only 1.2 innings and four earned runs to get the loss.
Mexico only managed a half a dozen hits including a triple, being silenced after two previous very productive days against Cuba and Puerto Rico.
Games Tuesday:
Cuba – Puerto Rico 3:30 pm
Dominican Republic – Venezuela 8:00 PM