Cuba Wins 3-2 Thriller over Puerto Rico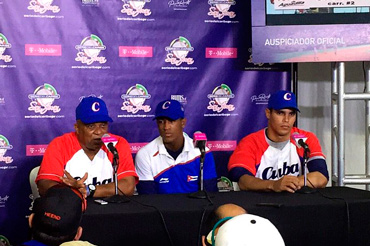 HAVANA TIMES — After two losses, Cuba faced a must win situation on Wednesday and came through with a 3-2 ten-inning win over Puerto Rico in the Caribbean Series. Today at noon they face Venezuela in the last game of the qualifying round of play.
Centerfielder Roel Santos lined a single to center off Puerto Rican reliever Fernando Cabrera to drive in pinch runner Yordanis Alarcon home for the walk-off win in the 10th.
Reliever Hector Mendoza picked up the win with 3.2 innings of scoreless relief allowing only 2 hits while walking four.
The game was interrupted by rain for nearly an hour in the second inning.
The islanders' task was doubly hard as their starting catcher Yordanis Alarcon and designated hitter Frederic Cepeda were not in the lineup due to injuries.
Likewise, starting shortstop Dainer Moreira and reliever Vladimir Gutierrez abandoned the team the day before after the loss to the Dominican Republic, in search of Major League contracts.
Cuba plays Venezuela at 12:05 p.m. EST on Thursday in its final contest of the qualifying round of the tournament.  The game will be broadcast live on Cubavision Internacional.
Venezuela and Mexico lead the tournament with 2-0 records while the Dominican Republic is 1-1.  Cuba is fourth with a 1-2 record while Puerto Rico is now 0-3. The top four teams will square off in the semifinals on Saturday and the winners in the finals on Sunday.
Editor's Note: Cuba lost game four (its last of the qualifying round) on Thursday to Venezuela by a score of 6-2.  It's possibilities of making the semi-finals of the Caribbean Series will depend on the other games.