Cuba/Baseball: VC One Game from Title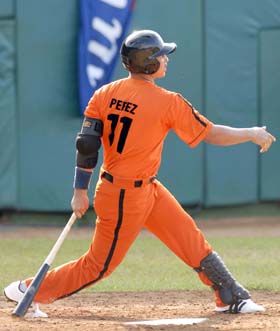 HAVANA TIMES — Villa Clara (3-1) hopes to seal their first Cuban baseball title in 18 years tonight at home against a desperate Matanzas (1-3), looking to take the series back west for a game six.
Matanzas avoided the possibility of a sweep by coming to life on Saturday to get their first victory by a 4-1 score backed by eight innings of solid pitching from right-hander Jorge Alberto Martínez.
Martinez retired the side in order in five of the eight innings he pitched. In the sixth, rightfielder Guillermo Heredia made a spectacular catch that took away a couple runs for Villa Clara.
Matanzas broke a 0-0 pitchers duel in the fifth on an RBI single by shortstop Jose Miguel Fernández. However, the game was decided in the top of the ninth inning.
With the score 1-0 Matanzas managed three runs off three VC relievers, including Jonder Martínez who gave up a two out single that brought in the second and third runs for Matanzas.
On Sunday afternoon things fell back into place for Villa Clara with the possible series MVP, Freddy Asiel Alvarez, extending his scoreless streak to 40.2 innings before allowing an unearned run in the eighth inning.
The 4-1 victory for Villa Clara began with three singles in the first inning that sent Matanzas starter Frank Navarro to the showers. What appeared to be a shaky lead expanded in the fifth with hits from Edilse Silva and Ariel Borrero and a three run homer by Yeniet Perez.
Matanzas managed five hits to 11 from Villa Clara.
For Monday's game five, Villa Clara manager Ramon More announced lefthander Misael Siverio, the winner of game two, while Victor Mesa declined to announce his starter, expected to be Joel Suarez o Alain Dela.
The game is at 8:15 p.m. Cuban time (EST).  It will be broadcast on national Cuban TV and can be watched on Cubavision Internacional.